Abstract
GC-MS ANALYSIS AND ANTIMICROBIAL ACTIVITY OF SAUDI RAPHANUS SATIVUS L. (CRUCIFEREAE) FIXED OIL
Sufian, A., Prof. Abdel Karim M.* and Ahmed, M.
ABSTRACT
Raphanus sativus L. is an economically important vegetable native to Asia and Europe. This plant is known for its health promoting properties and is widely used in Sudanese system of medicine. In this work the seed oil was studied by GC-MS. The oil was also evaluated for antimicrobial activity. Fifteen components were detected by GC-MS analysis. Major constituents are: 13-docosenoic acid methyl ester(35.48%); 9-octadecenoic acid methyl ester(17.12%); cis-11-eicosenoic acid methyl ester(11.64%); 9,12-octadecadienoic acid methyl ester(10.77%); 9,12,15-octadecatrienoic acid methyl ester (7.14%) and hexadecanoic acid methyl ester(5.48%). he antimicrobial activity of the oil was evaluated via the diffusion bioassay against eight standard pathogenic bacteria At a concentration of 100mg/ml the oil showed partial activity against Acinetobacter baumannii, Staphylococcus aureus and Aspergillus flavus.
[Full Text Article]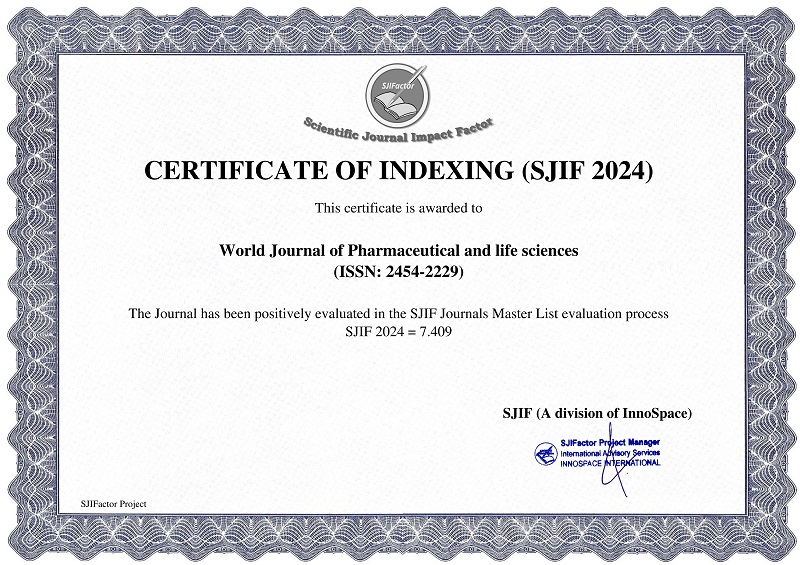 BEST PAPER AWARDS
World Journal of Pharmaceutical and life sciences Will give best paper award in every issue in the from of money along with certificate to promote research .
Best Article of current issue
Download Article : Click here