Abstract
A COMPARATIVE STUDY OF PADMADI LAUHA AND IRON FOLIC ACID IN MANAGEMENT OF GARBHINI PANDU
Dr. Roopal Dwivedi M. S., *Dr. Richa Garg M. D., Dr. Dharmendra M.D.
ABSTRACT
Aim: To evaluate the efficacy of padmakadi lauha in cases of Garbhini pandu.Introduction: Pandu means pallor of body which can be correlated with 'Anaemia' of modern science. Bala varna hani of Garbhini in 6th month of pregnancy can be considered as reference for Garbhini pandu. Anaemia is the commonest hematological disorder that may occur in pregnancy. Settings and Design: For the present clinical study 30 patients were selected. The patients having daurbalya, Shrama (Exhaustion), Bhrama (Giddiness), Jwara (Pyrexia), Jwara (Pyrexia), Nidralu (Over Sleep), Pidikodwesta (Cramps in Shanks), Hatprabha ( Loss of Skin Lusture), Shoonakshi Koot (Swelling around Eye orbit) ,and Haemoglobin below 10gm% and above 6gm% were selected for present clinical study.Materials and method: All patients were divided in two groups -1. Group –A : Patients of this group were given Iron (Ferrus Ascorbate) 100 mg and Folic acid 1.5mg orally once a day after meal with fresh water for a period of 12 weeks. 2.Group – B : Patients of this group were given Padmadi Lauha 500 mg BD orally after meal with fresh water for a period of 12 weeks. Type of study: Phase 2 Rationale Randomized control trial. Statistical analysis used: p value, paired 't' test, unpaired 't' test, ?2 etc.Results: The trial drugs shows a significant results in terms of cure & improvement in subjective and objective parameters and no any side effect has been observed. Conclusion: In cured patients response of treatment in group A is more than group B however group B has good response in improved patients so this study concluded that both groups has significant response on all the symptomps but inter group comparision have not statistically significant.
[Full Text Article]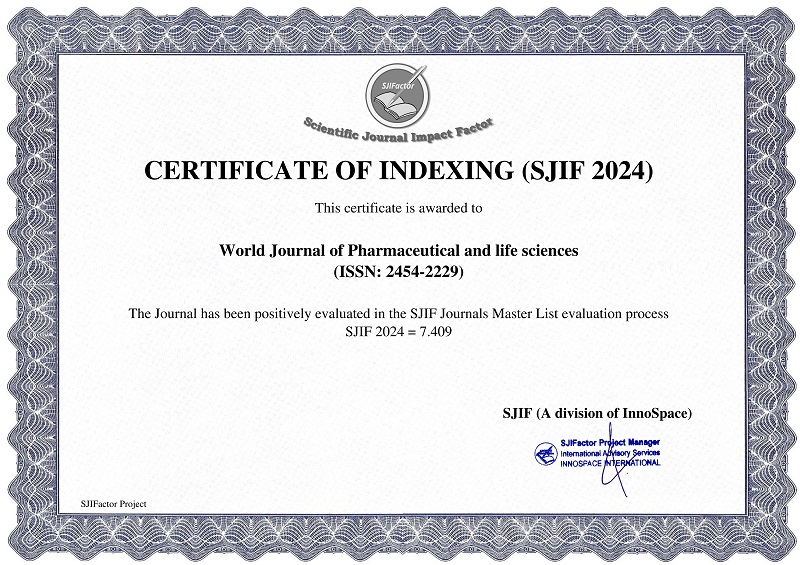 BEST PAPER AWARDS
World Journal of Pharmaceutical and life sciences Will give best paper award in every issue in the from of money along with certificate to promote research .
Best Article of current issue
Download Article : Click here