Abstract
EVALUATION OF POLYHERBAL FORMULATION
Vijayalakshmi P.*, Muthusamy P., Radha R., Vadivu R.
ABSTRACT
The present study aimed to evaluate the polyherbal formulation. Application of modern scientific tools and techniques is important for the quality evaluation and standardization of polyherbal formulation. For evaluation of raw materials various parameters are studied as per the World Health Organization's guidelines, Ayurvedic Pharmacopoeia of India and other standard references. The present study investigates the standardization of raw materials which constitutes of polyherbal formulation Berberis aristata, Terminalia chebula, Emblica officinalis, Terminalia belerica and Cyperus rotundus. To evaluate the raw materials include organoleptic characters, Morphological characters, Microscopic character of every plant and raw materials were subjected to physicochemical studies like ash values, extractive values, phytochemical studies and safety profiles which include heavy metal analysis, microbial load analysis of each powder is identified. Standardized raw materials were subjected to ethanolic extraction and followed by preliminary phytochemical screening and chromatographic analysis for polyherbal formulation were carried out.
[Full Text Article]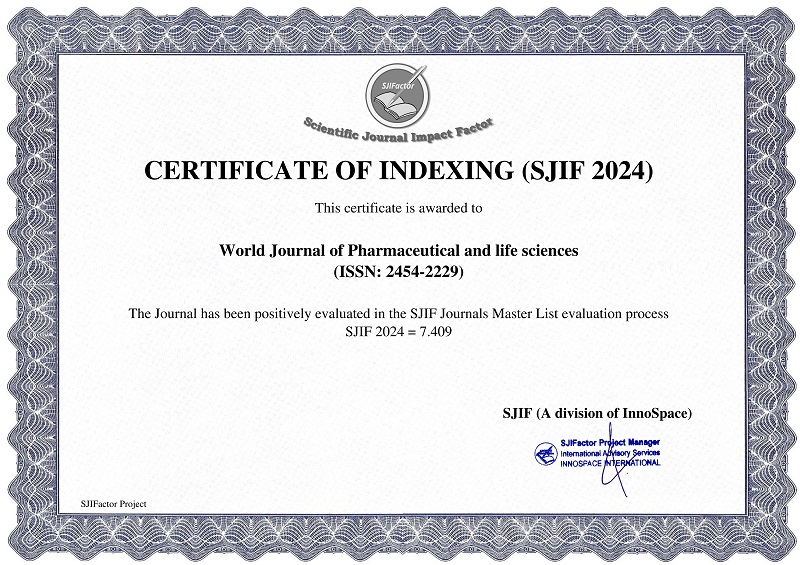 BEST PAPER AWARDS
World Journal of Pharmaceutical and life sciences Will give best paper award in every issue in the from of money along with certificate to promote research .
Best Article of current issue
Download Article : Click here