Abstract
LARVICIDAL ACTIVITY OF SEAGRASS CYMODOCEA SERRULATA (R.BROWN) AGAINST THE DENGUE VECTOR (AEDES AEGYPTI)
Srinivasan M.*, Vijaya Bharathi R., Radha R., Vadivu R.
ABSTRACT
The larvicidal effects of seagrass cymodocea serrulata extracts were tested on the larvae of the dengue-vector, Aedes aegypti. A. aegypti mosquito late third and early fourth instars larva were exposed to a wide range of concentration of seagrass extract i.e. 10, 5, 2.5, 1.25 and 0.625 ?g/ml and control to find out activity. Batches of 25 healthy late third and early fourth instars larvae were transferred to the 250ml water containing chambers and different concentrations of polar C. serrulata extract were added to assess the desired target dosage. Three replicates were performed for each concentrations and equal number of controls were also setup with tap water. The activity of extract showed maximum mortality effect on larvae of A. aegypti (L.). The LC50 and LC90 values of C. serrulata (A. aegypti (L.)) and Bleaching powder ?g/ml values were: 2.34 and 15.49 & 2.73 and 19.31 at 24h.
[Full Text Article]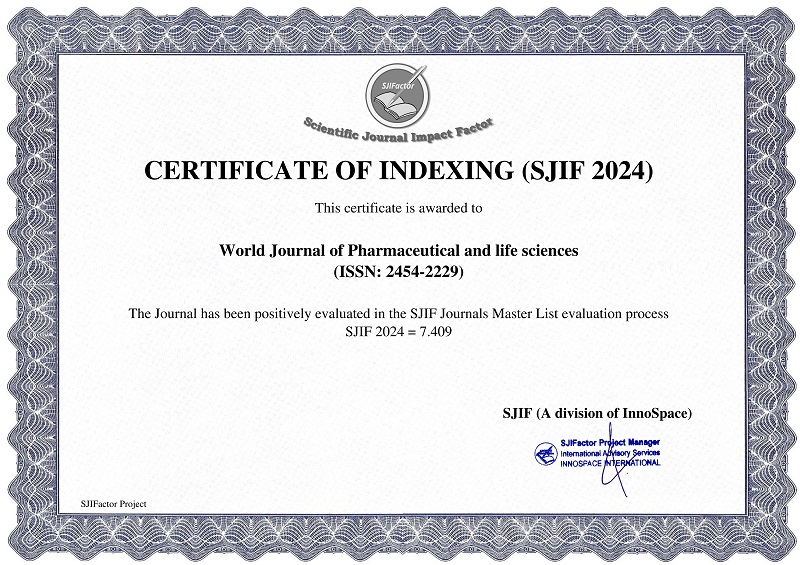 BEST PAPER AWARDS
World Journal of Pharmaceutical and life sciences Will give best paper award in every issue in the from of money along with certificate to promote research .
Best Article of current issue
Download Article : Click here