Abstract
PHARMACOGNOSTICAL STUDIES OF LEAVES OF PHOENIX SYLVESTRIS
Jeya Shanmuga Priya S.*, Vijaya Bharathi R. and Radha R.
ABSTRACT
Natural products have been well described for the treatment of numerous human diseases like cancer, coronary heart diseases, diabetes and other microbial infections. The WHO has estimated that 80% of world population uses plant-derived formulations as traditional therapies. Indian traditional system of treatment has great reference of traditional medicinal plants to cure various diseases and disorders which are need to explore the new and novel formulations. The herbal drugs are prepared with the traditional methods through slow grinding and mixing processes and so all the natural substances within it are in the "Naturally balanced form" without losing any essential components and thereby maintain the activity and purity of the drug. There is a need for the application of this knowledge in authentication, detailed study and practical utilization of crude drugs. In the present study, Pharmacognostical studies of leaves of Phoenix sylvestris were carried out. The parameters studied are, Macroscopy and Microscopy of leaves, Powder microscopy and Flourescence analysis.
[Full Text Article]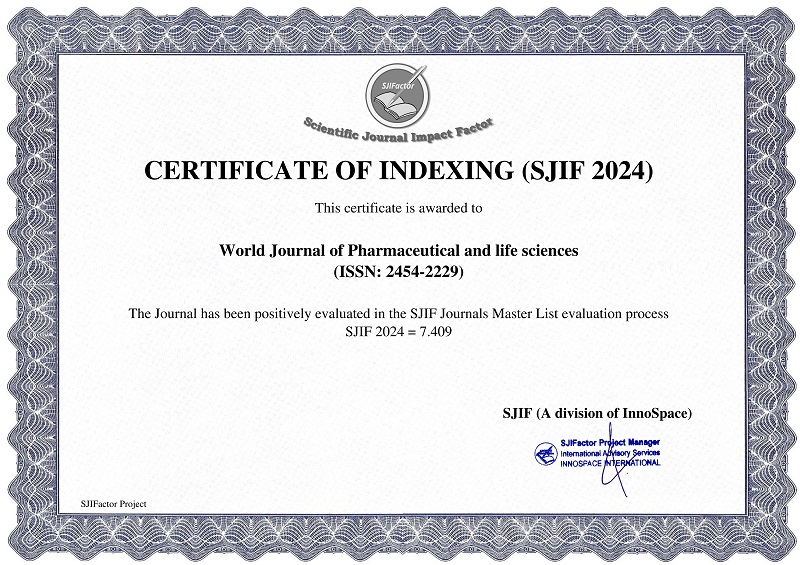 BEST PAPER AWARDS
World Journal of Pharmaceutical and life sciences Will give best paper award in every issue in the from of money along with certificate to promote research .
Best Article of current issue
Download Article : Click here