Abstract
SPECIMENS AND GRAM-NEGATIVE BACTERIA ETIOLOGIES OF INFECTIOUS DISEASES IN A SEMI-URBAN AREA IN WEST-CAMEROON: A TWELVE-MONTH RUNDOWN OF INFECTION SCREENING IN THE MEDICAL SCHOOL TEACHING HOSPITAL
Pierre René Fotsing Kwetche*, William Lelorel Nankam Nguekap, Christelle Domngang Noche, Anselme Michel Yawat Djogang, Sandrine Gamwo, Josué Simo Louokdon, Exupere Cheugoue Towo, Serge Honoré Tchoukoua, Jonas Kouamouo and K

ABSTRACT

The present survey aimed at identifying the most frequent clinical specimens submitted for analyses and the related susceptibility/resistance profile of Gram-negative rods isolated over a twelve-month period (January 1st through December 31st 2016) at the Université des Montagnes Teaching Hospital, Bangangté, West-Cameroon. All specimen collection, identifications and susceptibility tests were conducted in the Laboratory of Microbiology according to standard protocols recommended by REMIC, 2015 and Eucast-SFM, 2015. Most frequent specimens recorded (87%) were urines, women genital secretions and pus from which close to 88 % of the isolates, overwhelmed by members of the Enterobacteriaceae family were recovered. The most frequent etiologies (Escherichia coli, Enterobacter spp., and Klebsiella spp.) typically predominated in the urine (50% of isolates), followed by the vaginal secretion and pus (19% and 18%, respectively). Overall, the resistance rates to common or related antibacterial agents were higher in Enterobacteriaceae (Ampicillin, 94%; Trimethoprim/Sulfamethoxazole, 64%; Nalidixic acid, 61% and Ciprofloxacin, 43%) while susceptibility ranged from 3% with Amoxicillin/Clavulanic acid to 72% with Imipenem. This trend was also similar in non-fermenting Gram-negative rods, consistent with previous reports. The successive findings could serve as useful clues for effective action towards antibiotic susceptibility/resistance stewardship. To be effective the intervention policy should simultaneously target policy makers, prescribers, and drug users with trained and committed human resources.
[Full Text Article]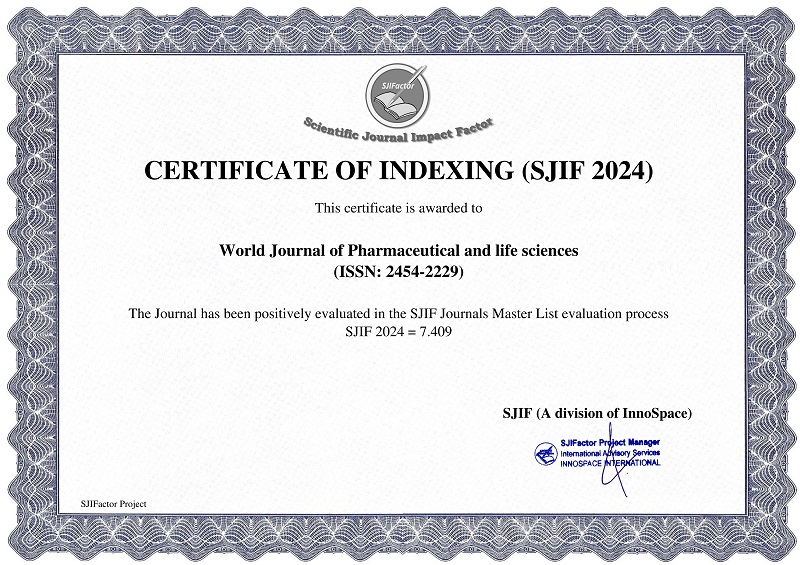 BEST PAPER AWARDS
World Journal of Pharmaceutical and life sciences Will give best paper award in every issue in the from of money along with certificate to promote research .
Best Article of current issue
Download Article : Click here