Abstract
USE OF WATERLEAF (TALINUM TRIANGULARE) IN REMEDIATION OF SOIL EXPOSED TO HEAVY METALS: A GREEN TECHNOLOGY APPROACH
Anyalogbu Ernest A. A.*, Anadi, Chigozie C., Nweje-Anyalowu Paul C. and Nnoli Matthew C.
ABSTRACT
The major environmental concern due to the disposal of urban and industrial waste generated by anthropogenic activities is the contamination of soil with heavy metals. The potential of waterleaf (Talinum triangulare) to abstract heavy metals from contaminated composite soil sample and consequently remediate it was investigated. Plants and soil samples were analysed for their heavy metal contents before and after graded periods of growth using Atomic absorption spectrophotometer. The concentrations (in ?g/g) of Cd, Cr, Pb, Hg and As in the composite soil sample decreased as the period of growth was increased given the range; 0.42±0.23 - 2.26±0.83, 0.56±0.21- 1.49±0.39, 9.82±0.16 - 12.34±0.40, 0.64±0.78 - 3.65±1.10 and 6.75±0.80 - 10.02±2.62 respectively. While the metals contents of the plant sample correspondingly increased given the ranges (in ?g/g): 0.45±0.19 - 0.80±0.47, 0.30±0.09 - 0.54±0.43, 0.28±0.06 - 0.33±0.40, 0.27±0.14 - 0.49±0.39 and 0.89±1.14 - 1.18±0.90. This amounted to reduction in the concentrations of these metals in the soil by between 4.59% and 82.47% and corresponding increase in the plant biomass by 3.5% to 81.48%. The transfer factor for each of the metals assayed increased steadily. This demonstrated the ability of Talinum triangulare to abstract heavy metals and consequently remediates the contaminated soil sample.
[Full Text Article]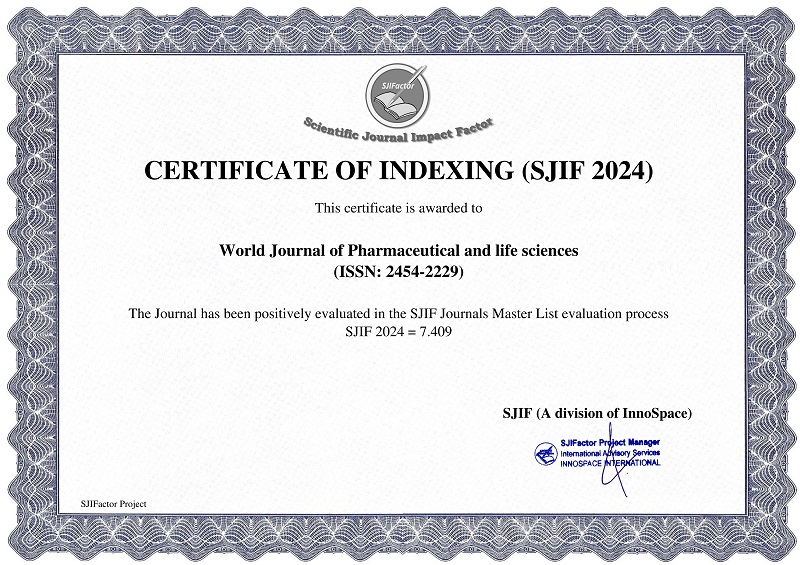 BEST PAPER AWARDS
World Journal of Pharmaceutical and life sciences Will give best paper award in every issue in the from of money along with certificate to promote research .
Best Article of current issue
Download Article : Click here