Abstract
EVALUATION OF THE MEDICINAL PROPERTIES OF IMPERATA CYLINDRICA (ATA) LEAF
Oji N*, Alaekwe I.O.. Ajiwe V. I. E., Aningo G. N. and Lackson A.
ABSTRACT
The leaves of Imperata Cylindrica were analysed to ascertain the active constituents responsible for the use of the plant in treatment of cough, toothache and as an astringent. The phytochemical analysis showed the presence of secondary metabolite such as flavonoids, tannins, alkaloids, acidic compounds, reducing sugars and proteins. The antibacterial and antifungal screening of the extracts showed considerable level of activity against the test organisms staphylococcus aureus, E. coli, Enterobacter aerogens, proteus vulgaris, streptoccus specie, bacillus specie, pseudomonas aerogenes, klebsiella aerogens, s. aureus, salmomonella species, pseudomonas pyocyanin, aspergillus flavus, aspergillus niger and candida albicans. Preparative thin layer chromatography and thin layer chromatography techniques were used to separate pure compounds from the extracts. The pure compounds were subjected to spectroscopic analysis such as GC – MS, UV – Visible, FTIR, H1 – NMR and C13 NMR. The spectral analyses suggested the presence of Hexadecanoic acid, ethyl ester and cis – 9- Hexadecenal.
[Full Text Article]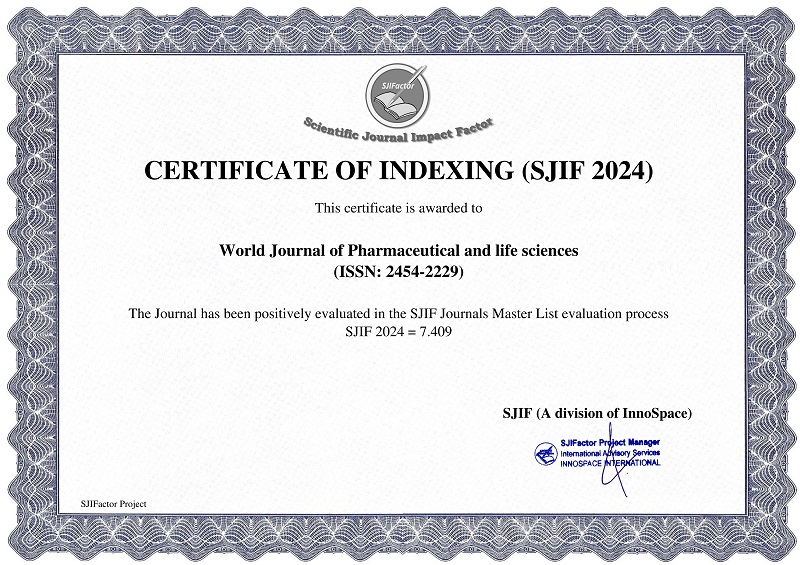 BEST PAPER AWARDS
World Journal of Pharmaceutical and life sciences Will give best paper award in every issue in the from of money along with certificate to promote research .
Best Article of current issue
Download Article : Click here