Abstract
BIOREMEDIATION APPROACH OF HEAVY METAL TOLERANCE BY HYDROCARBON DEGRADING PSEUDOMONAS SP.
Bezalwar P. M.* and Shuddhalwar P. P.
ABSTRACT
Organic pollutants and heavy metals are distributed throughout the environment and are highly recalcitrant to biodegradation processes. Indigenous microorganisms at contaminated sites have evolved for degradation of such contaminants. In this present study, indigenous Pseudomonas sp. were isolated, which was capable of utilizing petrol as carbon source. Total four heavy metal tolerance were studied namely, Cobalt, Iron, Zinc and Lead. The isolated pseudomonas Sp. were sensitive to Cobalt completely at all the concentration, resistant to Lead completely at all the concentration and for Iron & Zinc it is resistant to 1 ?g/ml, 2 ?g/ml and sensitive to 5 ?g/ml, 7 ?g/ml concentration. This work will spotlight the use of indigenous microorganism for bioremediation purpose.
[Full Text Article]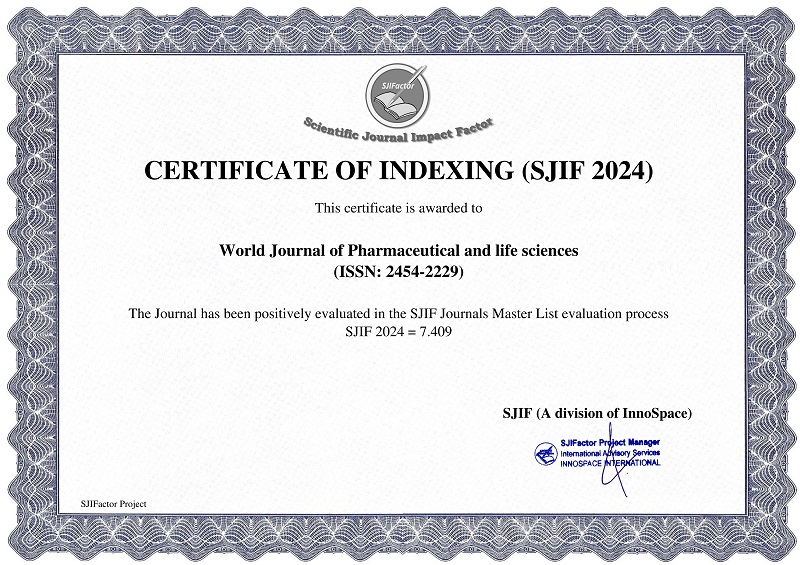 BEST PAPER AWARDS
World Journal of Pharmaceutical and life sciences Will give best paper award in every issue in the from of money along with certificate to promote research .
Best Article of current issue
Download Article : Click here