Abstract
EFFECT OF OIL PULLING AS AN ADJUNCT TO SCALING AND ROOT PLANING ON PLAQUE INDUCED GINGIVITIS
Dr. Meenakshi Mohan* and Dr. Sankari M.
ABSTRACT
Background: Oil pulling has been used extensively as a traditional Indian folk remedy for strengthening the teeth, gums and the jaw and to prevent decay, oral malodor, bleeding gums, dryness of the throat, and cracked lips. It is a widely recommended procedure in Ayurveda. Although chlorhexidine serves as a gold standard in mechanical plaque control, due to its chemical adverse effects, the study stresses on assessing the efficiency of oil pulling as an alternate to chlorhexidine. Aim: To compare the efficiency of oil pulling in reducing the colony forming unit (CFU) with chlorhexidine as an adjunct to scaling and root planing (SRP). Objective: The objective of the study is to find out whether oil pulling with sesame oil serves effective in controlling plaque accumulation. To assess its efficacy in maintaining gingival health and to compare the effectiveness of oil pulling in reduction of colony forming microorganisms with chlorhexidine vas an adjunct to SRP.
[Full Text Article]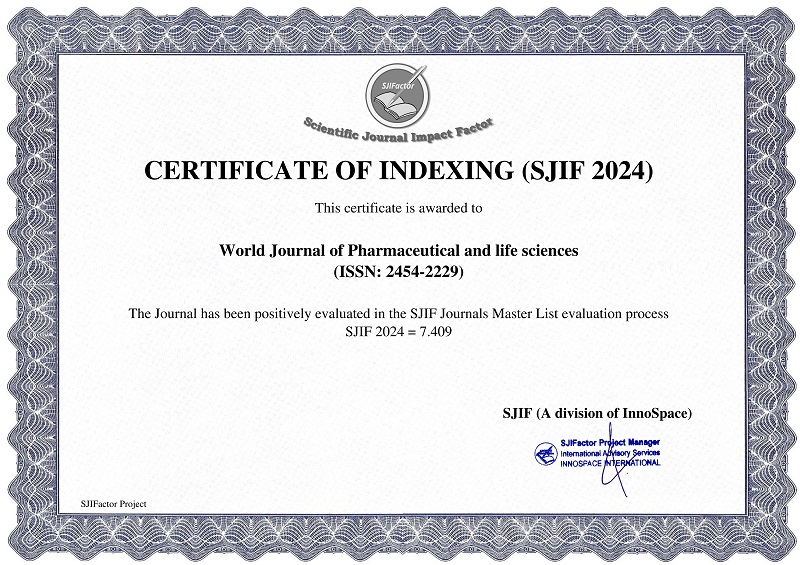 BEST PAPER AWARDS
World Journal of Pharmaceutical and life sciences Will give best paper award in every issue in the from of money along with certificate to promote research .
Best Article of current issue
Download Article : Click here