Abstract
BIOMARKERS IN ACUTE KIDNEY INJURY: INNOVATIVE DISCOVERIES TO APPLICATION IN CLINICAL MEDICINE
*Dr. Apeksha Niraula, Dahal K., and Mallick R.L.
ABSTRACT
Acute Kidney Injury (AKI) is a common complication in severely ill patients with a significant rise in its incidence in the past one decade. Though, there has been an increased advancement with newer treatment modalities and techniques, the morbidity and mortality rates associated with acute kidney injury is still high. Serum creatinine (SCr) and urine protein estimation is the only criteria that has been used in the diagnosis of AKI commonly till date. The use of these biomarkers has shown to perform well in patients with chronic kidney disease, but not in acute disease. Newer biomarkers has been discovered to overcome this difficulty with their own advantages and pitfalls. This review article focuses on the recent diagnostic criteria for AKI with the illustration of newer biomarkers for the early diagnosis and appropriate treatment in AKI.
[Full Text Article]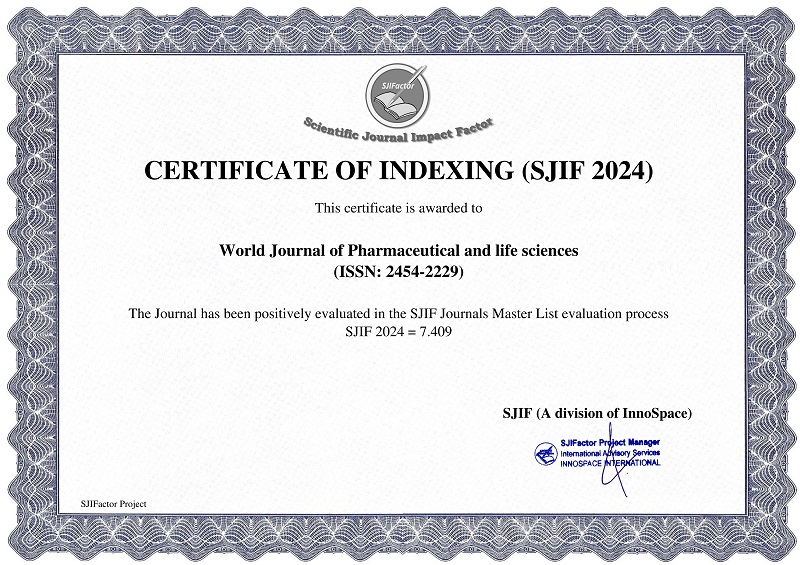 BEST PAPER AWARDS
World Journal of Pharmaceutical and life sciences Will give best paper award in every issue in the from of money along with certificate to promote research .
Best Article of current issue
Download Article : Click here