Abstract
MOLECULAR DETECTION OF METHICILLIN-RESISTANT STAPHYLOCOCCUS AUREUS (MRSA) IN CLINICAL ISOLATES FROM MAITAMA DISTRICT HOSPITAL, ABUJA, NIGERIA
Orji O.L,* Bolaji R.O, Igwe J.C, Abdullahi A.M, Afolabi Balogun N.B, Oko P.I, Adewola R, Eze H, Orji O.N. and Olayinka B.O.
ABSTRACT
Methicillin-resistant S. aureus (MRSA) is recognized globally as an important pathogen causing difficult- to treat infections in hospital and community setting due to its multidrug resistance to ?-lactam antibiotics, posing a significant limitation on the treatment of diseases caused by S. aureus strain. A total of 118 non-duplicate suspected S. aureus isolates were collected from Maitama District Hospital, Abuja, Nigeria. Using conventional biochemical analysis, 79(66.9%) of the isolates were observed to ferment Mannitol salt agar, of which 60(76.9%) were Coagulase-positive and 19(31.7%) were Coagulase-negative. Further evaluation using Microgene Staph. Identification kit 56(93.3%) were confirmed as S. aureus, 3(5%) as S. xylosus and 1(1.7%) as S. hyicus. The antibiogram showed that the S. aureus isolates were most susceptible to gentamicin, vancomycin, ciprofloxacin, erythromycin and linezolid. However, they were highly resistance to cefoxitin 46(82.1%). The S. aureus isolates also showed reduced susceptibility to tigercycline 40(71.4%), clindamycin 37(66.1), chloramphenicol 27(48.2%), amoxicillin-clavulanic acid 30(53.6%) and sulphamethoxazole-trimethoprim 27(48.2%). Twenty six (46.4%) of the coagulase-positive S. aureus were observed to be methicillin-resistance S. aureus (MRSA) while 30(53.6%) were methicillin-sensitive S. aureus (MSSA), identified phenotypically using Cefoxitin disc diffusion and PBP2a agglutination kit. Molecular analysis showed that 14(73.7%) harbored mecA gene while 16(84.2%) harbored femB. These MDR characteristics found in this isolates might be a contributing factor to the antibiotic susceptibility pattern of the mecA and femB S. aureus strain isolated in this environment, suggesting that most of the drugs might not be effective in the treatment of staphylococcal infection due to MRSA.
[Full Text Article]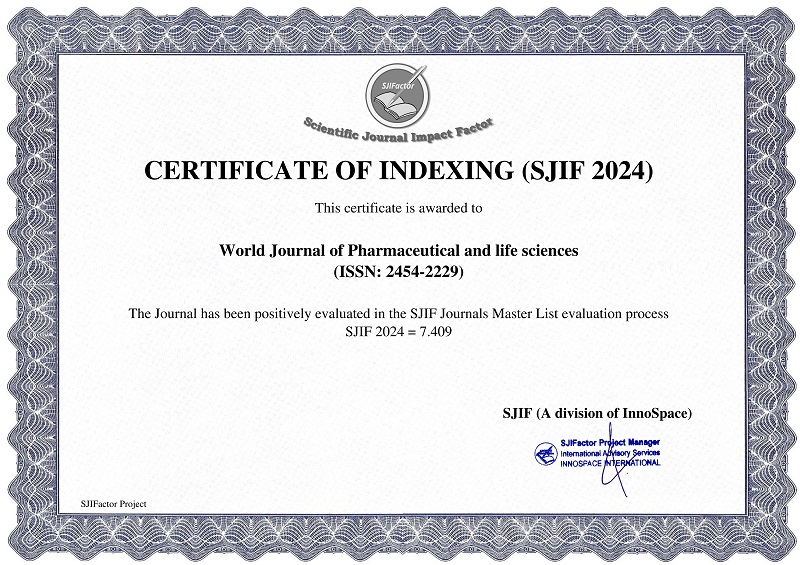 BEST PAPER AWARDS
World Journal of Pharmaceutical and life sciences Will give best paper award in every issue in the from of money along with certificate to promote research .
Best Article of current issue
Download Article : Click here