Abstract
SURVEY OF ETHNOMEDICINAL PLANTS IN KALRAYAN HILLS, EASTERN GHATS, VILLUPURAM DISTRICT, TAMIL NADU
Sujatha G.* and Pushparaj A.
ABSTRACT
The present survey deals with the indigenous knowledge on medicinal plants found in Kalrayan hills, Villupuram district, Tamil Nadu. A maximum of 60 ethnomedicinally important plants belonging to 36 different families were collected, herborized and identified. Ethnobotanical information included the local name of the particular plant, parts utilized, medicinal uses and methods of preparation and administration. Among the various plant parts, leaves (32%) were found to be highly used for medicinal preparation. Medicines were prepared in the form of paste, powder, decoction, juice, infusion and also in crude form, with other additives like honey, curd, and urine and cow milk to get relief from different ailments like diabetes, inflammations, wounds, skin diseases, headache, indigestion, urinary infections, fever, snake bites, cough, and dental problems. This study therefore concludes that suitable requirements are needed in order to protect the traditional knowledge in a particular area with reference to medicinal plant utilization. The plants need to be evaluated through phytochemical investigation to discover potentiality as drugs.
[Full Text Article]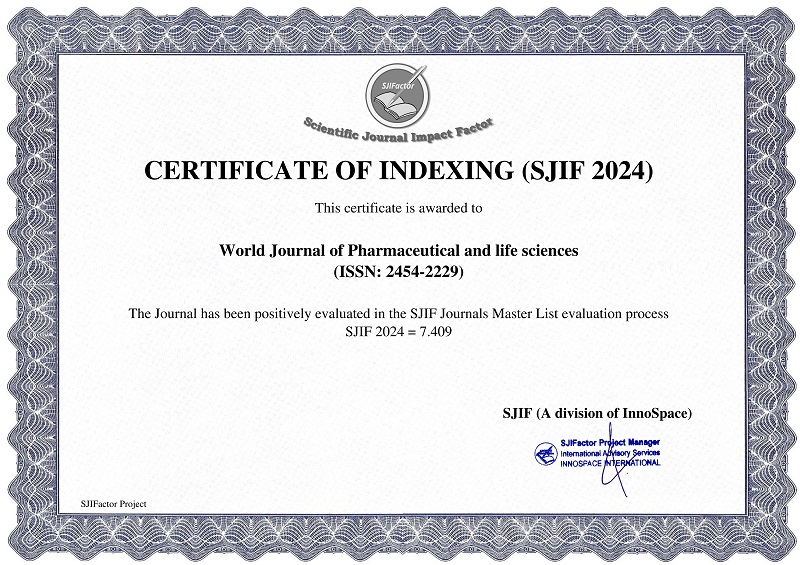 BEST PAPER AWARDS
World Journal of Pharmaceutical and life sciences Will give best paper award in every issue in the from of money along with certificate to promote research .
Best Article of current issue
Download Article : Click here