Abstract
LEVELS BCL-2, P53 IN BLOOD SERUM IN SMOKERS (HEALTHY AND CANCEROUS PATIENTS).
Dr. Elena Mil*, Lena Nagler, Anastasia Albantova and Antonina Kosazhenko
ABSTRACT
One of the levels protection of cells from negative effects of smoking is process apoptosis the cells contacting with cigarette smoke and change in the content of proteins regulators apoptosis. Smokers are at risk the incidence of lung cancer and respiratory tract, and according to literature data in cancer cells was found to increase the value of p53 and change Bcl-2 proteins. The purpose of study was to identify relationship between the components of the enzymatic protection and the content of apoptosis regulator proteins in smoking and in cancer associated with smoking (lung cancer and upper respiratory tract). Was studed the contens of the apoptosis markers Bcl-2 and p53 proteins in serum and the activity of the antioxidant (AO) enzymes (Cu, Zn superoxide dismutase (SOD), glutathione peroxidase (GP) and the enzyme of the biotransformation of xenobiotics - glutathione transferase (GT)) in erythrocytes. In the group of cancer patients (smokers and nonsmokers) was identified significant increasing of p53 protein levels in serum and activity of GT. Among healthy smokers were revealed two groups of donors: one with high levels OF Bcl-2, SOD and GP and another at moderate smokers with a reduced level of Bcl-2 compared with nonsmokers. These differences may be associated with the polymorphism human genes of proteins apoptosis and AO enzymes. Results suggest the relationship between the components of the enzymatic protection and proteins-regulators of apoptosis in healthy smokers and patients with cancer.
[Full Text Article]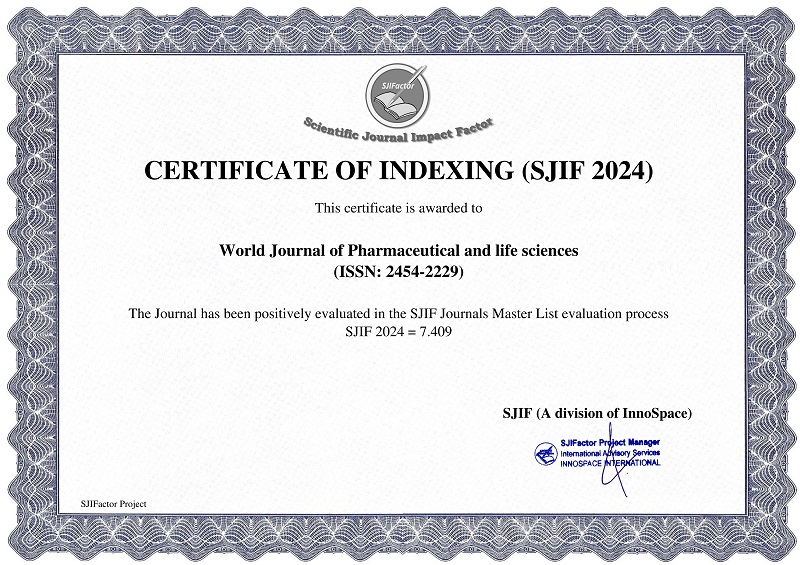 BEST PAPER AWARDS
World Journal of Pharmaceutical and life sciences Will give best paper award in every issue in the from of money along with certificate to promote research .
Best Article of current issue
Download Article : Click here