Abstract
PATTERN OF SWITCH THERAPY FROM INSULIN TO ORAL HYPOGLYCEMIC AGENTS IN INPATIENTS WITH TYPE 2 DIABETES MELLITUS AT A TERITARY CARE HOSPITAL MANDYA: A RECORD BASED DESCRIPTIVE STUDY
Vishwas A. T. L.*, Jeena Sara Joy, Pranoy S. Sankar, Ajisha K. V. and Agna K.
ABSTRACT
Background: Diabetes mellitus is a group of metabolic diseases characterized by chronic hyperglycemia resulting from defects in insulin secretion, insulin action, or both. We aimed to determine the feasibility of substituting oral hypoglycemic agents for insulin injection therapy in patients with Type 2 Diabetes Mellitus. Objective: To describe the switch therapy from insulin preparation to oral hypo glycaemic agents. Methodology: This was a record based descriptive study on TYPE 2 DM cases of patients admitted in the department of General Medicine at MIMS, Mandya. Result: Among the 135 cases, Majority of patient Females (51.72%) are more admitting TYPE 2 DM in hospital. The majority of patients belong to the category of age 60-69 years (34.84%). The most preferred insulin preparation among patients was Human Actrapid (54.08%). Biguanides were the most commonly prescribed class of drugs during switch therapy which is prescribed in (95.55%) prescriptions. While doing switch therapy tablet Metformin was the most preferable drug of choice (58.51%). Chi-square test was applied to check the relationship between types of oral hypoglycemic agents and blood glucose level we found that the calculated value was found to be 25.939 which was less than the expected tabular value 32.67. Hence, there exists a relationship between these variables. Conclusion: Our study concludes that, mostly female patients suffered from TYPE 2 DM. Switch therapy was done in MIMS hospital Mandya when the blood glucose level is controllable. Biguanides was the commonly prescribed class of oral hypoglycemic agents. The most preferable drug for switch therapy was found to be Metformin.
[Full Text Article]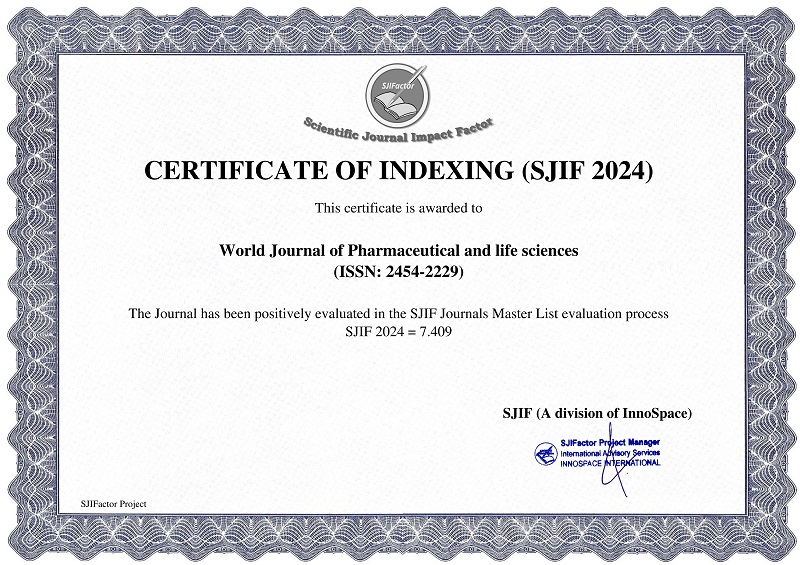 BEST PAPER AWARDS
World Journal of Pharmaceutical and life sciences Will give best paper award in every issue in the from of money along with certificate to promote research .
Best Article of current issue
Download Article : Click here