Abstract
AYURVEDIC MANAGEMENT OF KAPHAJA YONIVYAPAD (BACTERIAL VAGINOSIS) LEADING TO VANDHYATVA VIS A VIS INFERTILITY – A CASE STUDY
Dr. Krithika N.* and Dr. Anupama V.
ABSTRACT
Nowadays young couples are confronted with a major problem known as infertility. Priorly the incidence of infertility was only seen among the elder couples, now the management of the same in the younger ones has become a pressing priority for the upcoming faculty of Ayurveda. The present case is one such case wherein a 33-year-old female was suffering from chronic vaginal infection i.e Kaphaja Yonivyapad leading to Infertility i.e, Vandhyatva for which she visited the OPD of Prasuti Tantra & Stree roga in Sri Kalabyraveshwara swamy Ayurvedic Medical College, Hospital & Research center. The treatment of which included sthanika chikitsa and as well as abhyantara chikitsa. This study attempts to draw attention towards simple chronic vaginal infections that, when left untreated, can cause infertility in the long run.
[Full Text Article]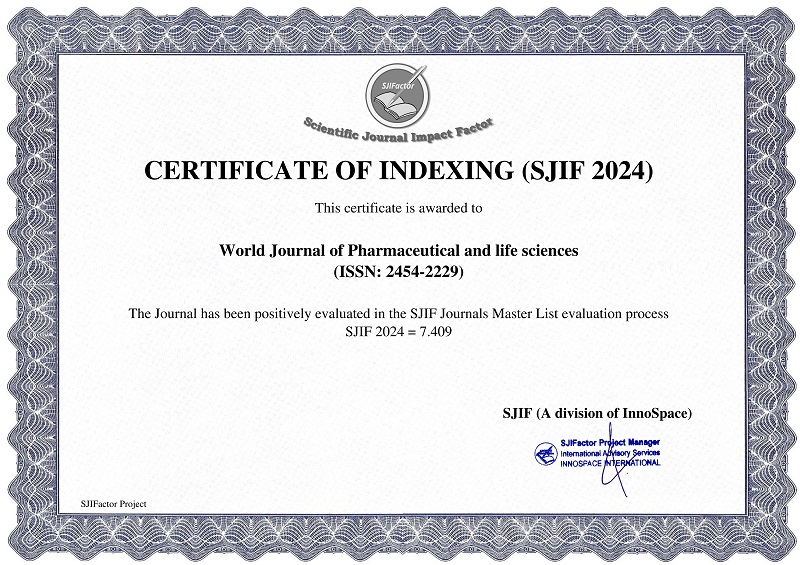 BEST PAPER AWARDS
World Journal of Pharmaceutical and life sciences Will give best paper award in every issue in the from of money along with certificate to promote research .
Best Article of current issue
Download Article : Click here