Abstract
ETHNOBOTANICAL STUDY OF MANGROVE FOREST EPE LAGOS STATE NIGERIA FOR THE TREATMENT OF TROPICAL DISEASES
Okosodo E. F.* and Sarada P. M.
ABSTRACT
The research study on Ethnobotanical study of mangrove forest Epe Lagos state Nigeria for the treatment of tropical diseases was carried out for six months in 2022 between January and June. Direct observation was used for field survey in collecting medicinal plant species (Okosodo and Sarada, 2021). In the seven towns around Epe Local government area, six well-known and heavily frequented traditional healing houses were visited. The plants were recognized using their common names, and their scientific names were discovered and recorded. With the help of a book on the trees of Nigeria, Medicinal herbs were identified and their uses were noted as the inventory of accessible herbs was kept. The result indicates that the study area is in rich medicinal plant species used for the treatment of tropical diseases. In all, a total of 51 plant species belonging to 29 families were identified in the Data collected from the study area. The family Bignonaceae has the highest number of plant species six (6) which is followed by with Rhizophoraceae and Rubiacea with plant species of four (4) each. The barks, flowers, fruits, Leaves, roots, and stem were the parts plant used. The leaves constitute the highest percentage of (48%), this is followed by barks (22%) and fruits (9%).
[Full Text Article]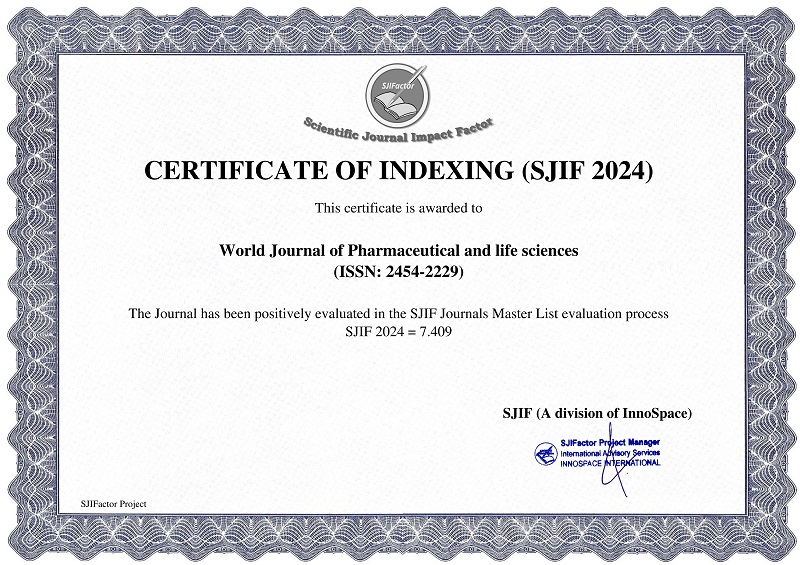 BEST PAPER AWARDS
World Journal of Pharmaceutical and life sciences Will give best paper award in every issue in the from of money along with certificate to promote research .
Best Article of current issue
Download Article : Click here