Abstract
EFFECTS OF ADDITION OF SOME FAT SOLUBLE VITAMINS AND SELENIUM ON SEMEN QUALITY AND BLOOD COMPONENTS IN SUDANESE GEZIRA ECOTYPE RAMS
M. G. Morkaz*, Makkawi, A. A., Ahmed S. H., Musa A. M., Lieri O. M. and Hassan E. H.
ABSTRACT
Infertility is a common problem in Sudanese desert sheep, it is due to the severe deficiencies of some nutrients in natural pasture. This study had been carried out at the Faculty of Animal Production, University of Gezira. Twenty four mature and healthy Gezira ecotype rams (Shugor and Dubasi), two ecotype groups Shugor and Dubasi, (12 rams for each)., were brought from local markets with average weight 36.5 ± 2.65 kg, were used to evaluate the effect of fat soluble vitamins and selenium (Se) injection on semen quality and blood components. Each group was subjected to different treatments (A, B, C and D). The first group (A) served as control while the second group (B), third group (C) and fourth group (D) were injected intramuscularly with 3 ml/head Selenium + vitamin E, 3 ml/head vitamin AD3E and 3 ml/head plus 3 ml/head Selenium + vitamin E, respectively. Semen samples were collected monthly using an artificial vagina. Blood samples were analyzed monthly for Hb, RBCs, WBCs and PCV. Sera were analyzed for metabolic indicators plasma testosterone, total protein, albumin, glucose, cholesterol, triglyceride, calcium and phosphorus. The results showed that treated groups recorded higher (P<0.05) values in semen characteristics compared to control, and group (D) was superior. Blood parameters had no significant (P<0.05) values of red blood cells, white blood cells, hemoglobin and packed cell volume compared to control groups. Treated groups showed significant (P<0.05) differences in plasma, total protein, albumin, glucose concentrations, cholesterol, triglyceride and compared with control group. Plasma testosterone were recorded better (P<0.05) values in treated groups, moreover Shugor ecotype recorded the best results in all parameters. Generally Dubasi ecotype recorded the best results in most parameters investigated. The study conclude that when rams injected with antioxidant mainly selenium and fat soluble vitamins during summer season were performed better in semen quality and reproductive efficiency. Moreover Dubasi ecotype was more responsive to different treatments than the Shugor ecotype. Also, the current study recommends that treated rams with vitamin AD3E and Selenium injection improve the semen quality and the reproductive efficiency of rams in the Gezira State.
[Full Text Article]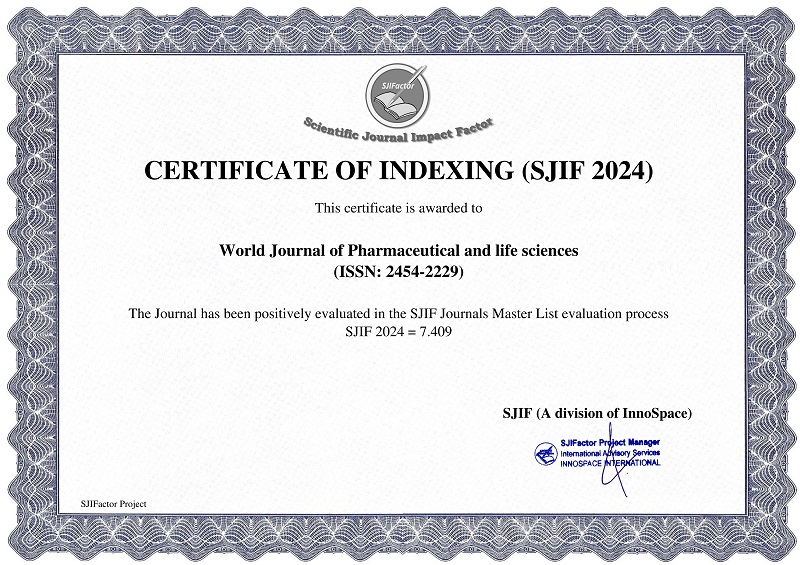 BEST PAPER AWARDS
World Journal of Pharmaceutical and life sciences Will give best paper award in every issue in the from of money along with certificate to promote research .
Best Article of current issue
Download Article : Click here