Abstract
DETERMINATION OF MULTIENZYME AND ANTIBACTERIAL EFFICACY OF FERMENTATION BROTH FROM PINEAPPLE WASTES
*Barate D. L. and Gite P. G.
ABSTRACT
Waste utilization in fruits and vegetable processing industries is one of the important and challengeable jobs around the world. It is anticipated that the discarded fruits as well as its waste material could be utilized for future purposes viz. Fermentation. In the present study the pineapple waste consisting of pulp, crown leaves and peels were used. This study is carried out for analysis of multienzyme and antibacterial efficacy of fermented broth prepared by using Saccharomyces cerevisae, Aspergillus niger and Bcaillus subtilis. After fermentation enzyme activity was detected qualitatively by agar plate method for amylase, protease, lipase and cellulase activity and antimicrobial efficacy against S. aureus, Enterococcus spp., Bacillus spp., E. coli and Klebsiella pneumoniae were analyzed. The results showed presence of varied multienzyme activity and also susceptibility pattern of isolates toward the multienzyme preparation.
[Full Text Article]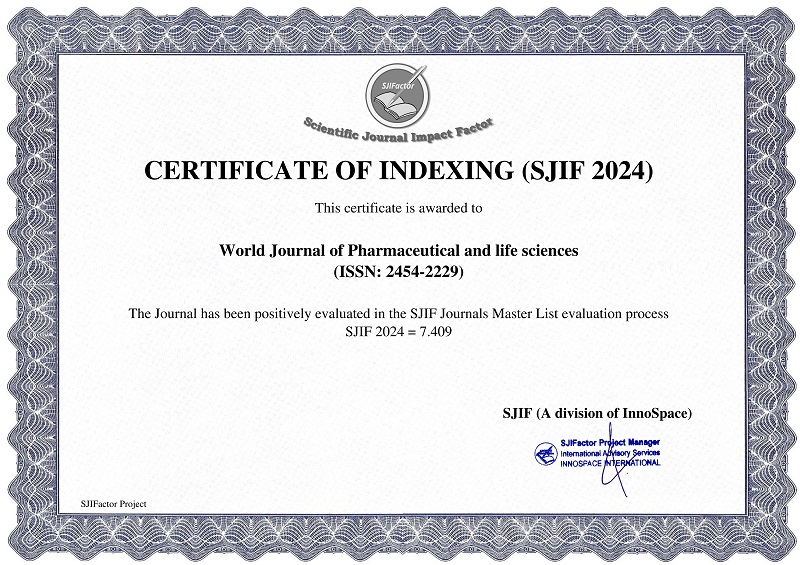 BEST PAPER AWARDS
World Journal of Pharmaceutical and life sciences Will give best paper award in every issue in the from of money along with certificate to promote research .
Best Article of current issue
Download Article : Click here