Abstract
EFFECT OF FLUSHING SYSTEMS AND DIFFERENT LEVELS OF SELENIUM AND VITAMIN E INJECTION ON REPRODUCTIVE PERFORMANCE OF GEZIRA ECOTYPES (DUBASI AND SHUGOR) IN OFF-BREEDING SEASON.
M. G. Morkaz*, O. M. Lieri, H. E. Hassan, A. M. Musa, S. H. Ahmed, A. Aziz Makkawi and S. A. Gayoum
ABSTRACT
This study investigated the effect of flushing systems and different levels of Selenium and vitamin E injection on reproductive performance of Gezira ecotypes (Dubasi and Shugor) in off-breeding season using 36 ewes(18Dubasi and 18 Shugor) Aged between 2-3 years with body weight of 36 kg randomly allocated to six treatments. All groups used in flushing period and only the source of energy were different between rations. The ewes were divided into six groups: A-control (only received basal diet) group. B: treated with 50% concentrated feed. C: treated with 100% concentrated feed. D: group treated with Selenium + vitamin E half dose (1ml). E group treated with Selenium + vitamin E full dose (2ml). G group treated with100% concentrated feed and full dose of Selenium + vitamin E (2ml). Selenium + vitamin E were given one dose per week intramuscularly for 8 weeks. (4wks before mating and 4-after mating). The experimental lasted 24 weeks (from 1st of April to end September) In this study improved fertility percent of 100%, 133%, 100%, 133% and 133% were recorded for Shugor, while Dubasi recoded 100%, 133%, 100%, 100% and 133%for B, C, D, E and G experimental groups, respectively. The control experiment group recorded 67% fertility. Blood constituents revealed good results in all treatment groups. A significant (P?0.01) increase in WBC, and lymphocytes were observed in all treatments compared to (A) group; while the neutrophils decreased significantly (P?0.01) in treated groups, little effect on monocyte, and no effect on basophile, eosnophil, while a significant (P?.O I) increase in (PCV) were observed in treated animals compared to (A) group. Blood plasma had greater concentrations of blood total protein, cholesterol, inorganic phosphorus as well as higher aminotransferase activity than those of control group. It can be concluded that reasonable dosage of Selenium + vitamin E particularly those given by intramuscular injection is recommended to promote performance of ewes during the gestation period as well as to achieve better reproductive aspects in out off season.
[Full Text Article]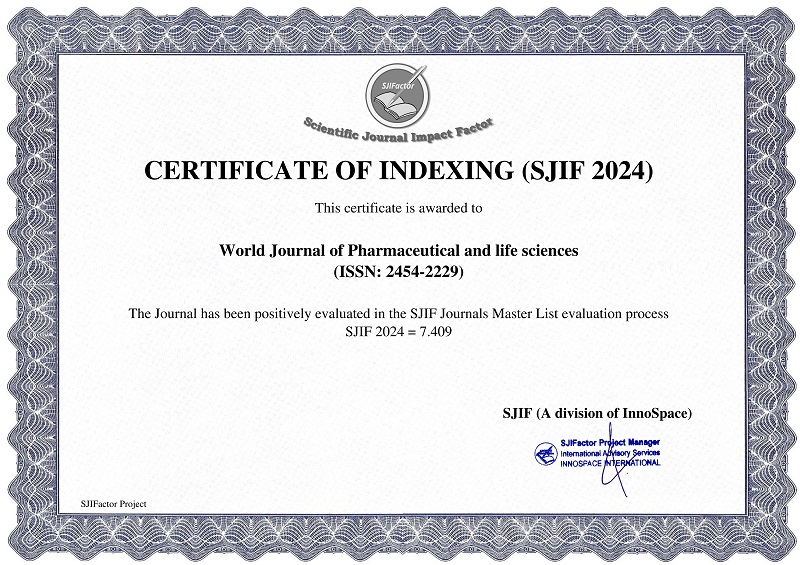 BEST PAPER AWARDS
World Journal of Pharmaceutical and life sciences Will give best paper award in every issue in the from of money along with certificate to promote research .
Best Article of current issue
Download Article : Click here