Abstract
STEM CELL MECHANOBIOLOGY AND ITS ADVANCE IN THE STEM CELL THERAPY AND CANCER RESEARCH
*Sahana B. T., Pushpa Agrawal and Thippareddy K. S.
ABSTRACT
Stem cells are undifferentiated cells that are capable of proliferation, self-maintenance, and differentiation towards specific cell phenotypes. These processes are controlled by a variety of cues including physicochemical factors associated with the specific mechanical environment in which the cells reside. The control of stem cell biology through mechanical factors remains poorly understood and is the focus of the developing field of mechanobiology. An understanding of the cytoskeleton?s importance in stem cells is essential for their manipulation and further clinical application. The cytoskeleton is crucial in stem cell biology and depends on physical and chemical signals to define its structure. Stem cells and their local microenvironment, or niche, communicate through mechanical cues to regulate cell fate and cell behavior and to guide developmental processes. Potential stem cell therapy holds great promise for the treatment of many diseases such as stroke, traumatic brain injury, Alzheimer?s disease, Parkinson?s disease, amyotrophic lateral sclerosis, myocardial infarction, muscular dystrophy, diabetes, etc. It is generally believed that transplantation of specific stem cells into the injured tissue to replace the lost cells is an effective way to repair the tissue. In fact, organ transplantation has been successfully practiced in clinics for liver or kidney failure. The study of physical and mechanical features of cancer cells, especially mechanisms associated with cancer cell invasion and metastasis, may help the effort of developing diagnostic biomarkers and therapeutic drug targets.
[Full Text Article]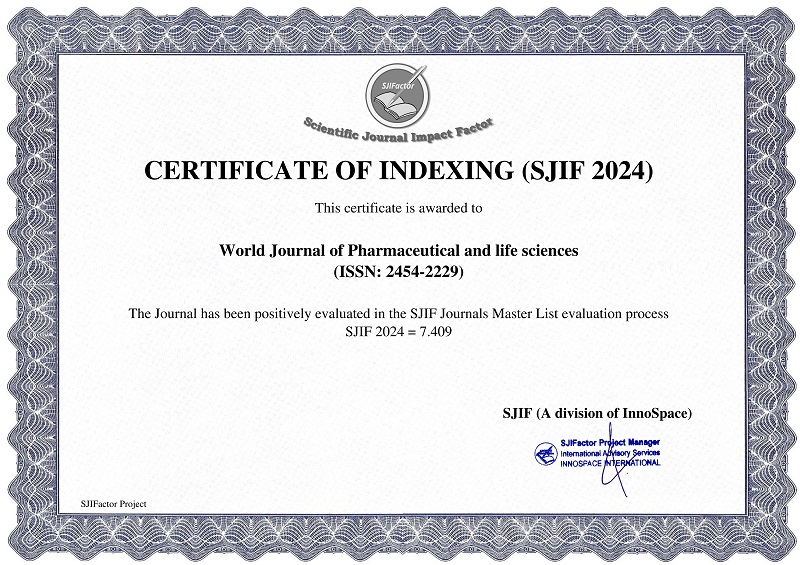 BEST PAPER AWARDS
World Journal of Pharmaceutical and life sciences Will give best paper award in every issue in the from of money along with certificate to promote research .
Best Article of current issue
Download Article : Click here