Abstract
A QUALITATIVE ASSESSMENT OF THE KNOWLEDGE, ACCEPTANCE AND SIDE EFFECTS OF COVID-19 AND THE VACCINATION AMONGST WOMEN ATTENDING ANTENATAL CLINICS AT BUKURU, JOS-SOUTH LGA; PLATEAU STATE.
Otobo D. Daniel, MD* and Okoro I. Ngozi, MD
ABSTRACT
The aim of this study was to carry out a qualitative analysis on the knowledge, acceptance and side effects of covid-19 and the vaccination amongst women attending ANC clinics at Bukuru using a Focused Group Discussion. This was done utilizing a cross-sectional study that utilized a validated data tool with over 250 participants. The participants in this study had a relatively good knowledge of covid-19 and the corona virus vaccine. Most of them who were willing to accept it had determining conditions, such as family and assurance.
[Full Text Article]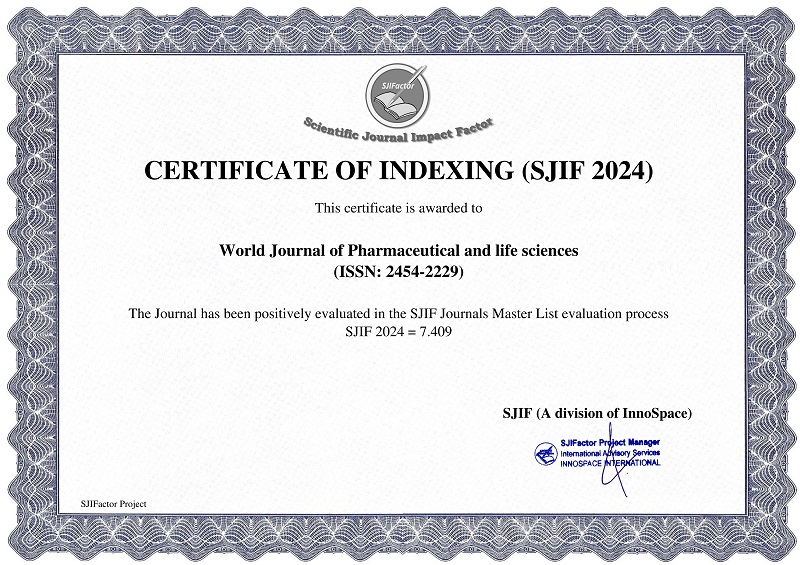 BEST PAPER AWARDS
World Journal of Pharmaceutical and life sciences Will give best paper award in every issue in the from of money along with certificate to promote research .
Best Article of current issue
Download Article : Click here