Abstract
A STUDY ON EVALUATION OF ANTHELMINTIC ACTIVITY OF BAUHINIA VARIEGATA
Lakshmi V.V.*, Archana Akhileswaran, Aysha Binsy P., Greeshma Sreenivas, Nafih T. and Sudheesh P.S.
ABSTRACT
The aim of present study was to evaluate anthelmintic activity of, ethanolic extracts of aerial parts of Bauhinia variegate using earthworms. Various concentrations i.e.50, 100,and 200mg/ml of above mentioned extract were tested in bioassay which involves determination of time of paralysis( P) and time of death(D) worms. Albendazole of same concentration was included as standard reference of normal saline solution as control. The results of present study indicated that the ethanolic extracts of Bauhinia variegate shows significantly Anthelmintic activity when compared to the reference Albendazole drug. In conclusion the traditional use of leaves of plant Bauhinia variegate as an anthelmintic have been confirmed.
[Full Text Article]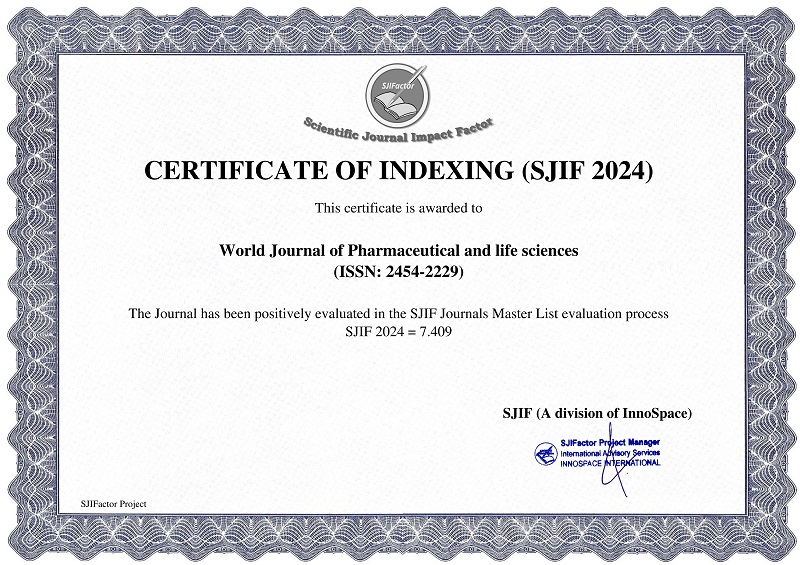 BEST PAPER AWARDS
World Journal of Pharmaceutical and life sciences Will give best paper award in every issue in the from of money along with certificate to promote research .
Best Article of current issue
Download Article : Click here