Abstract
A REVIEW ON SMALL MOLECULES AND PEPTIDES FOR THE TREATMENT OF COVID-19.
Nikita Panchal* and Dinesh Thakkar
ABSTRACT
Corona virus disease 2019 (COVID-19) was declared a pandemic by the World Health Organization on March 11th 2019, and it has caused 400 million of cases and a million deaths since then. Researchers from various fields of expertise around the world are attempting to identify the novel molecules as well as most appropriate drugs, which are already known to treat other diseases which could address the process by which SARS-CoV2 invades and replicates in human cells as well as potentially improve cytokine storms and other related complications. In this article, we focus to look on the most promising drugs that could play a significant role in this treatment of COVID-19. The review discusses the currently explored molecules with a focus on RNA-dependent RNA polymerase (RdRp) inhibitors such as the nucleoside analogues remdesivir, favipiravir, and ribavirin. Inhibitors of 3C-like protease (3CLpro), papain-like protease (PLpro), and other potentially novel molecules like TMPRSS inhibitors, Inhibition of endocytosis Inhibition E, M, N & accessary proteins, and Suppression of excessive inflammatory responses, describing their potential targets, activities, clinical status, and side effects.
[Full Text Article]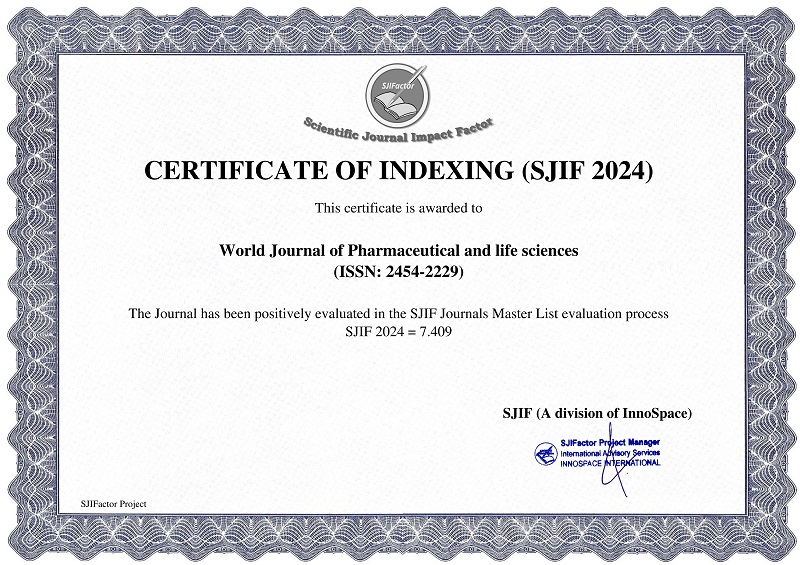 BEST PAPER AWARDS
World Journal of Pharmaceutical and life sciences Will give best paper award in every issue in the from of money along with certificate to promote research .
Best Article of current issue
Download Article : Click here