Abstract
CRITICAL ANALYSIS ON THE CONCEPT OF JANAPADODHWAMSA - A LITERATURE REVIEW
Dr. Shruthi S. Shet* and Dr. Venkatakrishna K. V.
ABSTRACT
Introduction: Ecology is the science of mutual relationship between living organism and their environment. Major part of human ecosystem is natural environment in addition to other dimensions of manmade environment. Health has biological, ecological concepts too, where adaptation and adjustment to the environment leads to optimum health. Therefore, the internal and external environment need to be balanced. The constant alteration in environment or ecosystem by activity such as urbanization, industrialization, deforestation land reclamation etc. is creating new health problems and brings changes in human ecology. When humans fails to adapt with the nature, there comes the malpractice that leads to disasters. Large number of deaths in the current era are due to environmental pollution, disasters and communicable diseases. This imparts ill effect on physical and biological environment. Concept of Janapadodwamsa can be understood with respect to environment. Etiology, symptoms as well as remedies for Janapadodwamsa has been explained in Ayurveda. Therefore, there is a need to review the concept of Janapadodwamsa and understand it with respect to current environmental condition. Method: Literature review. Discussion: The study tries to develop the concept of Janapadodwamsa in relation to natural disaster, epidemic disease and environmental pollution. Conclusion: Janapadodwamsa is more relatable to all the natural disasters and communicable diseases, which leads to the destruction of large number of people.
[Full Text Article]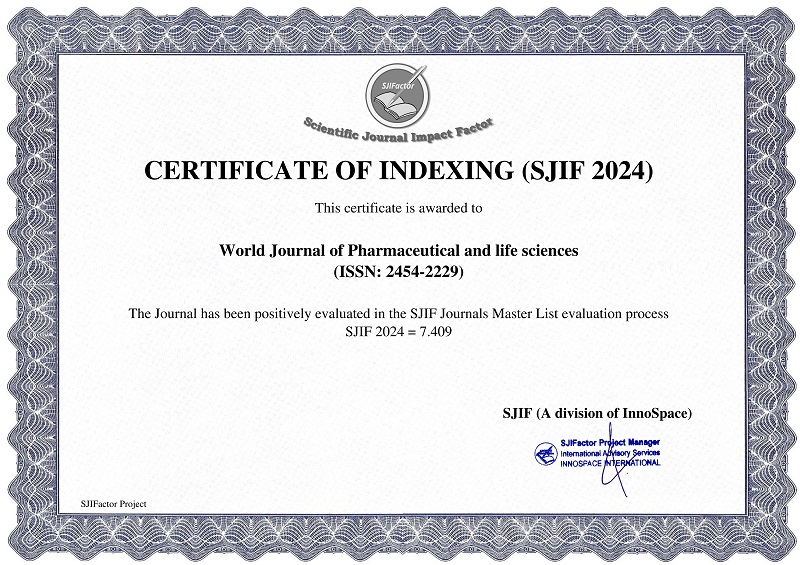 BEST PAPER AWARDS
World Journal of Pharmaceutical and life sciences Will give best paper award in every issue in the from of money along with certificate to promote research .
Best Article of current issue
Download Article : Click here