Abstract
HYPOKALEMIC QUADRIPLEGIA AS A RARE MANIFESTATION IN SJOGREN'S SYNDROME
Dr. K. E. Govindarajulu MD,* Dr. Bathragiri MD and Dr. Harikrishnan S.
ABSTRACT
Background: Sjogren's Syndrome is an immune system disorder characterized by dry eyes ands dry mouth. It can be difficult to diagnose because the signs and symptoms vary from person to person and can be similar to those of other diseases. Here we report one such patient who presented with quadriparesis due to hypokalemic periodic paralysis. Case Information: 34 year old lady presented to the ER with insidious onset weakness of all four limbs over 2 days. Serum electrolytes revealed Serum Pottasium levels of 1.9 MEq/dl and Arterial blood gas revealing Normal Anion Gap Metabolic Acidosis suggestive of Renal Tubular Acidosis .type 1. Suspicion of Sjogren's by history of dry mouth and repeated episodes of exposure keratitis was confirmed by lip biopsy suugeestive of Sjogren's Syndrome. Conclusion: This report is to highlight the various extra-glandular manifestation of Sjogren's Syndrome with Renal Tubular Acidosis being one among them.
[Full Text Article]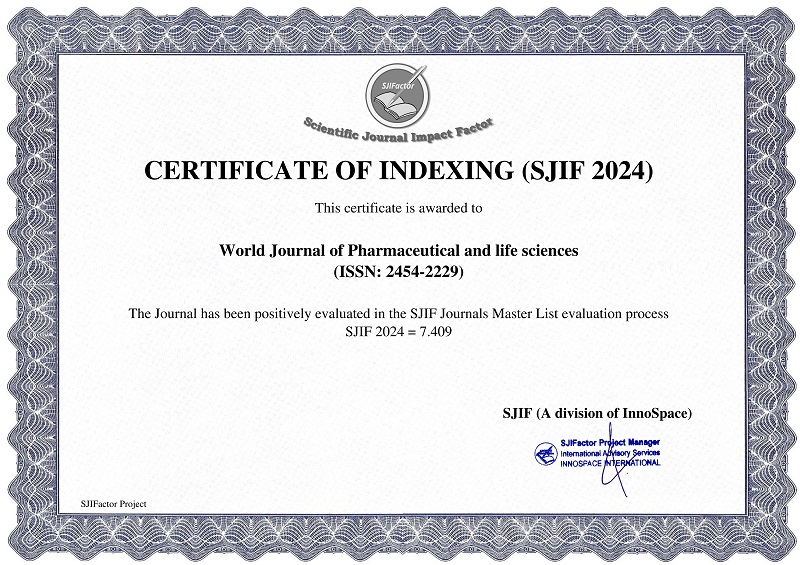 BEST PAPER AWARDS
World Journal of Pharmaceutical and life sciences Will give best paper award in every issue in the from of money along with certificate to promote research .
Best Article of current issue
Download Article : Click here