Abstract
REVIEW OF TALAHRIDAYA MARMA WITH THE HELP OF CADAVERIC DISSECTION
Sachin Kumar Sharma*, Renu Tripathi, Ashok Kumar Dwivedi and Mini K. V.
ABSTRACT
Ayurveda is an ancient system of medicine. It is accepted as the oldest science of medicine as the description of ayurveda medicine is found in Vedas (5000 B.C.). "MARMA? is one of the important subject of Ayurveda, Acharya Charak has delt its clinical significance in "Trimarmeeya Siddhi Adhyaya" under three headings "Vasti, Shira and Hridaya. In olden days Vaidya had to deal with more emergencies during the time of war and it might have been the reason why Marma was given outmost importance in our Samhitas. Marma are the vital points when affects, leads to termination of life. Thus from surgical point of view knowledge about Marma is highly important. The details of Marma are present not only in our scriptures but also in Vedas, Upanishad, Itihaasa and Puranaas. Talhridaya Marma is a type of Mansa Marma which is situated at the centre of Hastatala and Paadatala.[1] They are four in number which is located one each in all four limbs. It is also included in Sakhagata Marma and Kalaantara Pranahara Marma. Any injury to Talhridaya Marma leads to Ruja (severe pain) and Marana (death) over a period of time gradually.[2] In this present paper, an attempt is made to explore the concept of talharidya marma is an introductory from with special reference to cadaveric dissection in a systemic and well organized manner to know its importance in human body and in rachana sharer.
[Full Text Article]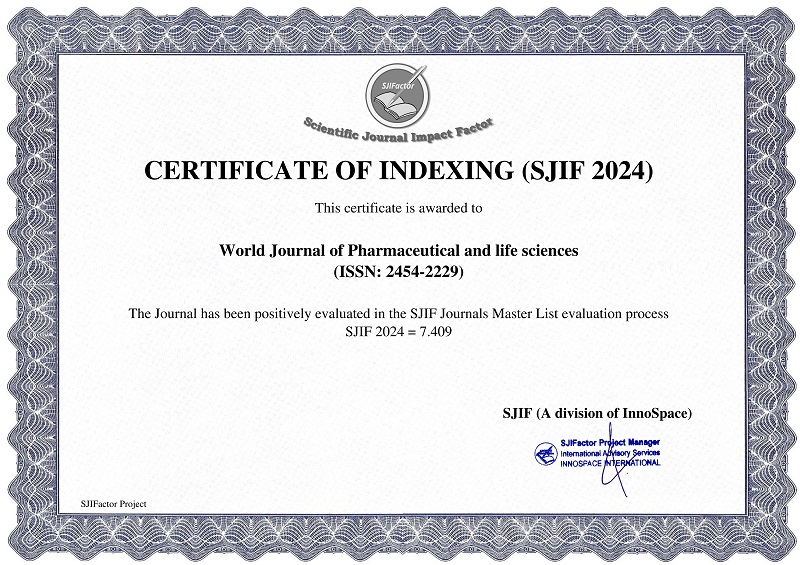 BEST PAPER AWARDS
World Journal of Pharmaceutical and life sciences Will give best paper award in every issue in the from of money along with certificate to promote research .
Best Article of current issue
Download Article : Click here