Abstract
A COMPREHENSIVE STUDY OF GUDA WITH SPECIAL REFERENCE TO GUDA-VALI
Dr. Mayank Sharma*, Prof. (Dr.) Renu Tripathi, Dr. Ashok Kumar Dwivedi and Dr. Mini K.V.
ABSTRACT
Guda is a very important segment of the G.I. tract, present at its distal end, which serves the function of expulsion of the Mala and Apana Vayu, formed as residue after the metabolic transformation of the ingested food. Guda has been explained in many aspects like Malashaya, Pureeshvaha Srotas, Pranayatana, Koshthanga, place of Mooladhar chakra, Bahya Srotas, Adhishthan of Apana Vaayu, Karmendriya, etc. The concept of Guda has been beautifully explained both anatomically and functionally. Originating from the Matraj Bhava, Guda is described as Uttar and Adhar Guda, which, internally, comprises of three Vali – Pravahani, Visarjani and Samvarani. Vali refers to a fold or wrinkle. These Vali help in forcing the Mala downwards, relaxing the Guda for expulsion of Mala and contraction of the Guda after expulsion of Mala, respectively. Guda is also explained as an important Marma, categorized as a type of Sadyopranahara Marma, Mamsa Marma (according to Sushruta), Dhamani Marma (according to Ashtanga Hridaya) which is present in the Madhya Sharir and is of Atma Paani tala in Pramaan.
[Full Text Article]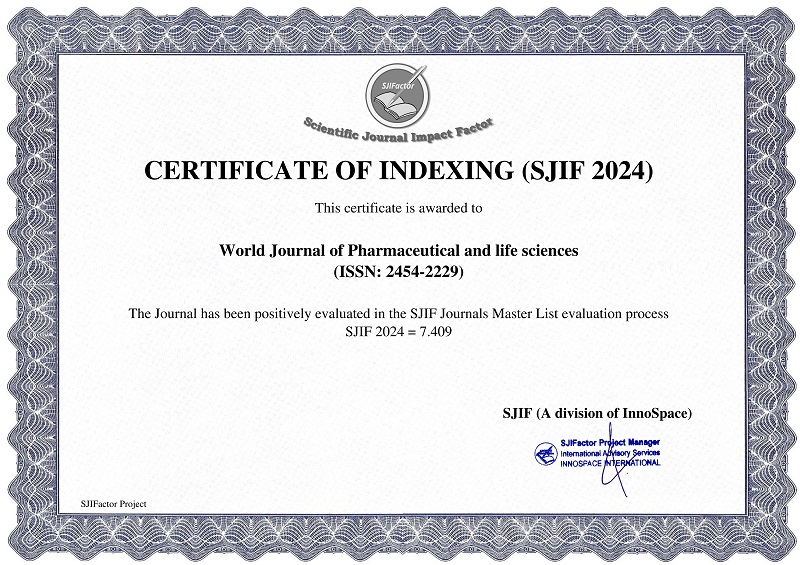 BEST PAPER AWARDS
World Journal of Pharmaceutical and life sciences Will give best paper award in every issue in the from of money along with certificate to promote research .
Best Article of current issue
Download Article : Click here