Abstract
DESIGN, IN SILICO SCREENING, AND MOLECULAR DOCKING OF A NOVEL BENZOTRIAZOLE DERIVATIVE AGAINST THE TYROSYL t-RNA SYNTHETASE OF STAPHYLOCOCCUS AUREUS
Patil Tejaswini D.* and Amrutkar Sunil V.
ABSTRACT
The emergence of resistance to currently available antimicrobial drugs necessitates the development of new molecules as a potential alternative. One of the most commonly used methods for designing active ligands to the fixed structure of a target protein is molecular docking. The aim of this study is to find the best docking confirmation of benzotriazole derivatives against the Aminoacyl t-RNA synthetases enzyme (PDB: 1JIJ) in order to predict their antimicrobial potential. In comparison to the reference ligand, BZT10 has the lowest binding energy. BZT4 and BZT8 also show considerable binding affinity towards Aminoacyl t-RNA synthetases (PDB: 1JIJ). In silico ADME research of benzotriazole was carried out using PreADMET online server. The study found that the pharmacokinetics were optimal, with good oral absorption and low toxicity.
[Full Text Article]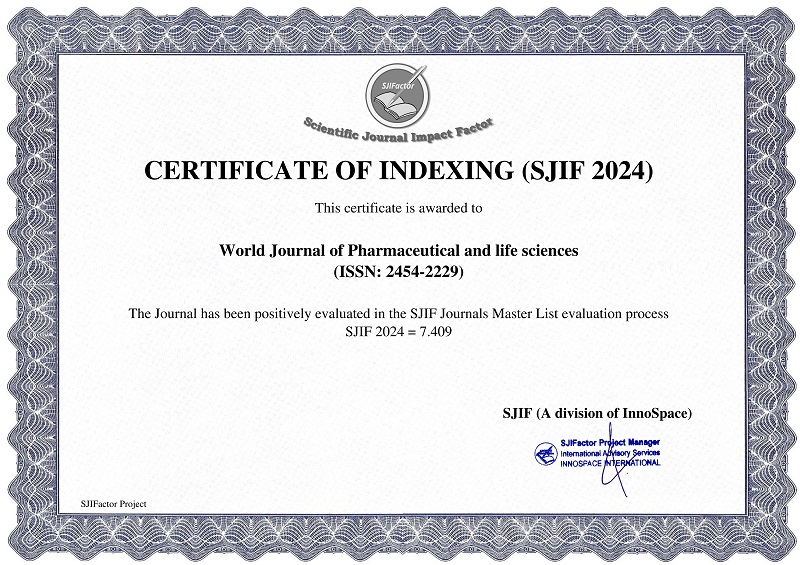 BEST PAPER AWARDS
World Journal of Pharmaceutical and life sciences Will give best paper award in every issue in the from of money along with certificate to promote research .
Best Article of current issue
Download Article : Click here