Abstract
DEVELOPMENT AND VALIDATION OF RP-HPLC METHOD FOR THE ESTIMATION OF AGOMELATINE IN BULK AND TABLET DOSAGE FORM.
Sai Govikari, Bairi Agaiah Goud and Ajmera Rama Rao*
ABSTRACT
A simple precise, accurate, sensitive and efficient reverse phase high performance liquid chromatography (RP-HPLC) method has been developed for estimation of Agomelatine in its Tablet dosage form. Separation was done by using mobile phase consists of mixture of Acetonitrile and buffer in the ratios of 45:55%v/v. Chromatography separations were carried out on Athena C18 column (250X4.6mm; 5?m) at a flow rate of 1 mL/min and UV detection at 230 nm and the retention time for Agomelatine is 2.76 min. The linear dynamic response was found to be in the concentration of 10-40?g/mL. The percentage recovery of was found to be 98.89%-100.50%. Proposed method was found to be simple, accurate, precise and rapid. The statistical parameters and recovery studies were carried out and reported. The results obtained were satisfactory and good in agreement as per the ICH guidelines.
[Full Text Article]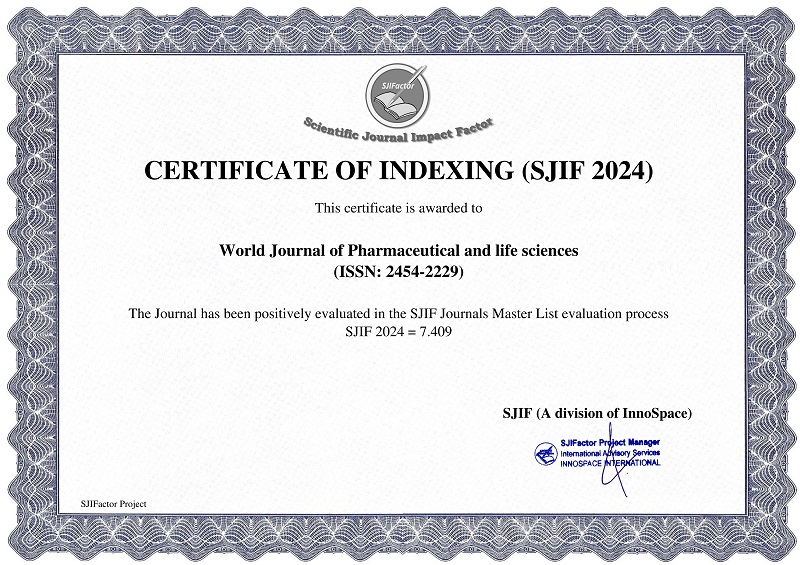 BEST PAPER AWARDS
World Journal of Pharmaceutical and life sciences Will give best paper award in every issue in the from of money along with certificate to promote research .
Best Article of current issue
Download Article : Click here