Abstract
PHYTOCHEMICAL AND PROXIMATE COMPOSITION OF IGBO OKRA (ABELMOSCHUS ESCULENTUS) SEEDS
Chinedum Ifeanyi Nwankwo*, Njoku Juliet Chinomso, Nwakanma Sunday Ndubuisi, Ajah Obinna, Alaebo Prince Ogochukwu, Uhuo Emmanuel Nnaemeka, Pipi Okechukwu Gift, Ochiabuto Esther C. and Umeh Virginus A.
ABSTRACT
It has been established that the geographical location of a plant has modulatory effects on the expression of phytochemicals in the plant. This idea spurred the aim of this current study, which is to evaluate the phytochemical profile and proximate composition of Abelmoschus esculentus (AE) seeds planted in, Ikwuano LGA, Abia State, Southeastern Nigeria which has a tropical climatic condition. Immature AE pods were harvested from a farm in Ikwuano LGA, Abia Sate, South Eastern Nigeria, washed and the seeds separated from the pods. The seeds were allowed to air dry for two weeks, pulverized to fine powder using a milling machine and used for the different analyses using standard procedures. The results obtained were statistically analyzed using the SPSS software (version 22.0) and results were presented as Mean ± SD (Standard Deviation) and statistical significance determined using Duncan Multiple Range test. The results obtained showed that for the proximate composition analyses, Igbo Okra seeds contained 10.48mg/100g Moisture, 5.21mg/100g Ash, 15.30mg/100g crude fat, 2.50mg/100g Crude fibre, 28.92 mg/100g Crude protein and 47.60mg/100g carbohydrate. The results for the phytochemical analysis showed the presence of Alkaloids, Terpenoids, Glycosides, Flavonoids, Tannins, Phenolics, Carbohydrates, reducing sugars, Steroids and saponins. The quantitative phytochemical composition of Igbo Okra seeds is as follows; Tannins 18.01mg/100g, Total Phenolics 139.88mg/100g, Steroids 0.15mg/100g, Terpenoids 43.68mg/100g, Flavonoids 164.65mg/100g, Reducing Sugars 301.36mg/100g, Carbohydrates 1172.16mg/100g and Glycosides 13.75mg/100g. Igbo Okra seeds in South East are rife with important phytochemicals which could be of pharmacological importance.
[Full Text Article]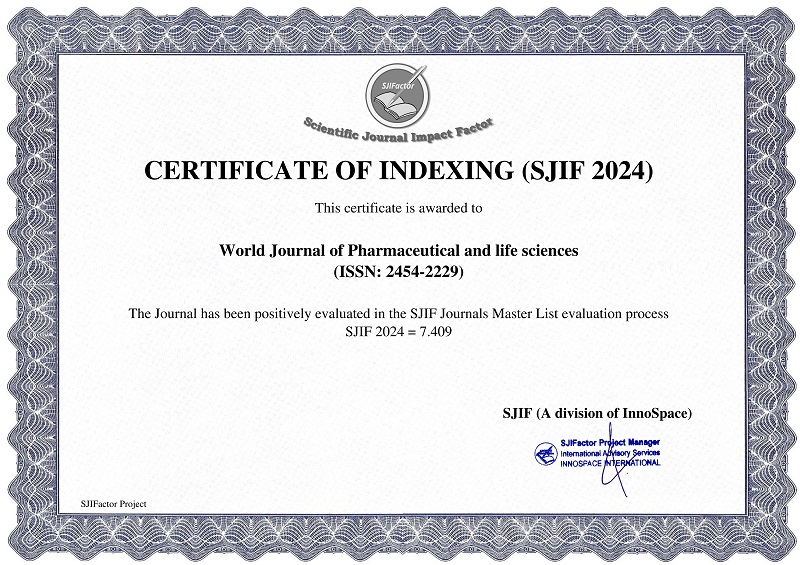 BEST PAPER AWARDS
World Journal of Pharmaceutical and life sciences Will give best paper award in every issue in the from of money along with certificate to promote research .
Best Article of current issue
Download Article : Click here