Abstract
CONTROL OF DAMPING –OFF DISEASE OF DIFFERENT VARIETIES OF BRINJAL (SOLANUM MELONGENA L.) BY USING BOTANICAL EXTRACTS.
Sabebaro Namo Das*
ABSTRACT
Damping off is a serious disease of brinjal which leads to the decay of germinating seeds, seedling and limit their production in nurseries and fields. The present investigation was carried out the effect of aqueous extracts of two botanical extracts viz. Allium sativum and Allamanda cathertica against damping-off disease on the three different varieties of brinjal i.e Pusa Purple, Pusa Purple Long and Pusa Purple Round in the shade-net nursery. Seed treatment with Allium sativum and Allamanda cathertica were evaluated against damping-off, seed germination and growth characters of brinjal seedlings. Both the treatments significantly reduced per cent damping-off of these three varieties of brinjal over control. The highest seed germination was recorded in Pusa Purple Round (88.33%) followed by Pusa Purple (86.33%) and Pusa Purple Long (80.33%) after seed treatment with Allium sativum; while the Allamanda cathertica extract showed 86.66, 84.33 and 73 per cent on Pusa Purple Round, Pusa Purple and Pusa Purple Long variety, respectively.
[Full Text Article]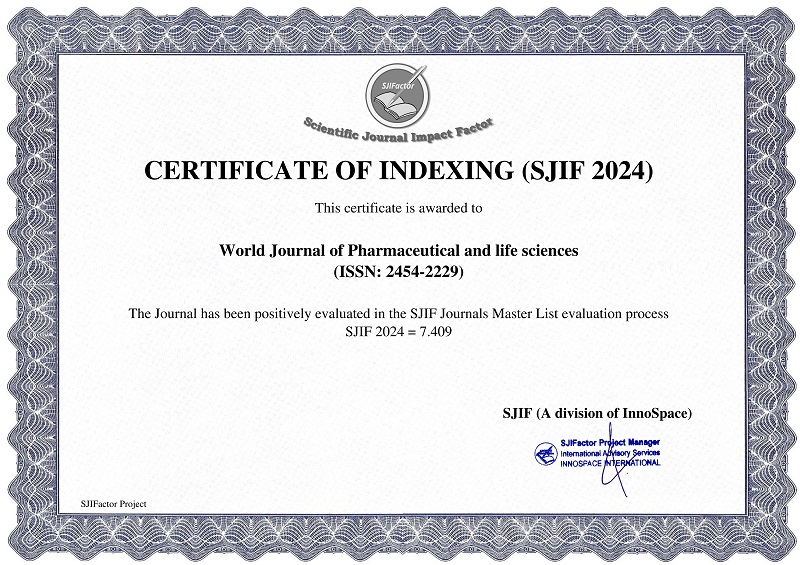 BEST PAPER AWARDS
World Journal of Pharmaceutical and life sciences Will give best paper award in every issue in the from of money along with certificate to promote research .
Best Article of current issue
Download Article : Click here