Abstract
INDIGENOUS TRADITIONAL KNOWLEDGE OF FISHER FOLKS IN MANAGING THE OCEAN STATE CONDITIONS, WEATHER VARIABLES AND FISH AVAILABILITY – A STUDY FROM TAMIL NADU AND UNION TERRITORY OF PUDUCHERRY
Dr. Velvizhi S.*, Thamizhazhagan E., Suvitha D., Mubarak Ali A., Arokiya Kevikumar J. and Lourdessamy Meleappane C.
ABSTRACT
This paper explores indigenous traditional knowledge of fisher folks in changing climatic conditions, weather variables and fish availability in the coastal fishing villages of Tamil Nadu and Union Territory of Puducherry. A combination of questionnaires, semi structured interviews with key informants and focus group discussions were carried outto collect the required data. The study found that the fisher folk based on their experiences gained over the years maintained some important traditional knowledge in predicting ocean conditions, abnormalities and availability of fish resources. Thislocal or traditional knowledge can have significant implications for scientific research in strengthening and management of ocean advisory system and forecasting the potential fishing zone informations. Incorporation of indigenous traditional knowledge with scientific ocean modeling systems has tremendous potential to develop reliable scientific forecasts and accurate future predictions.
[Full Text Article]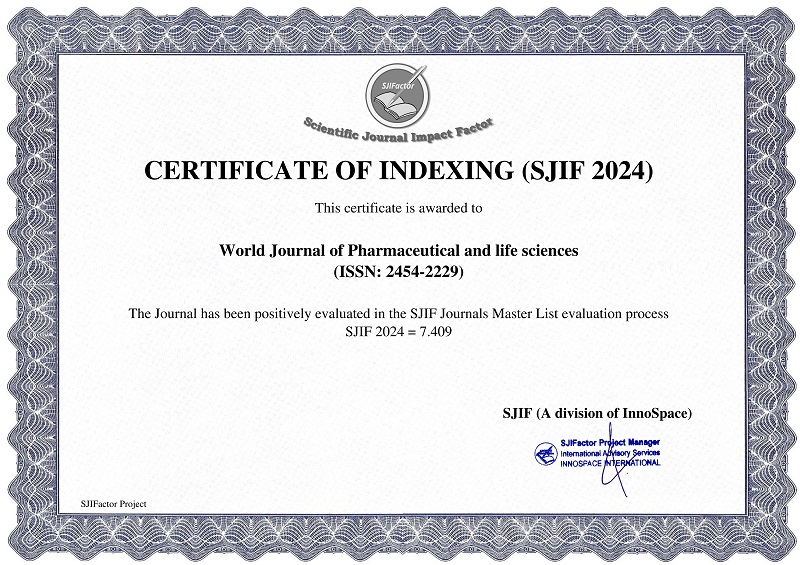 BEST PAPER AWARDS
World Journal of Pharmaceutical and life sciences Will give best paper award in every issue in the from of money along with certificate to promote research .
Best Article of current issue
Download Article : Click here