Abstract
IMPORTANCE OF TRIMARMAS WITH SPECIAL REFERENCE TO VASTI MARMA
*Priyanka Kashyap, Dr. Renu Tripathi, Dr. Ashok Kumar Dwivedi and Dr. Mini K. V.
ABSTRACT
In the deep and vast sea of the knowledge of Ayurved, Marma is one of the exclusive and unique concept. Acharya Sushruta who belongs to the school of surgeons, had paid special attention on one hundred and seven (107) vulnerable points in the body called as "Marma". Acharya Charak has dealt its clinical significance in "Trimarmeeya Chikitsa Adhyaya"& "Trimarmeeya siddhi Adhyaya" under three headings "Vasti, Hridaya and Shir?. Even today we do not go beyond the excretory, cardiovascular and neurological status of the patient while assessing the prognostic status. A patient is regularly checked periodically for his urinary, heart and respiratory conditions. Charak has also stressed on these factors and identified Vasti, Hridaya & Shir as Trimarma which means the vital organs of the body, on mercy of which living body depends. In spite of mentioning the total number of marmas as 107, he focussed on explaining Trimarmas, and has given utmost importance to "Vasti"as marma by placing it among the three marmas of the body. Present paper is an effort made to compile and analyze references available in Ayurvedic texts and emphasizes on proper understanding of basic concept of Trimarma.
[Full Text Article]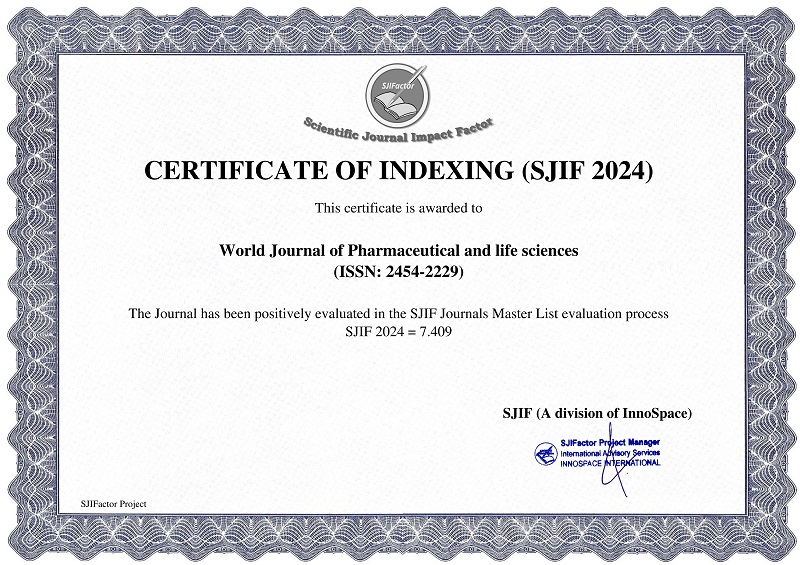 BEST PAPER AWARDS
World Journal of Pharmaceutical and life sciences Will give best paper award in every issue in the from of money along with certificate to promote research .
Best Article of current issue
Download Article : Click here