Abstract
HYPERFERRITINEMIA: A PREDICTOR OF MORBIDI
*Prof. Dr. P. Paranthaman and Dr. Subhashini K.
ABSTRACT
Aim: To study the levels of Serum Ferritin in predicting severity in COVID-19 patients. Methods: A retrospective study was conducted among 270 RT-PCR confirmed COVID-19 patients who were admitted and treated from July 2020 to November 2020 with relevant laboratory data. Results: Of the 270 patient records, studied 212 (78.5%) showed serum ferritin levels less than 1000 ng/ml, of which 7 patients (3.3%) required ICU care and 6 patients died (2.8%). In the range of S.ferritin of 1000-1999 ng/ml there were 47 patients (17.4%) of which 10 (21.2%) required ICU care and 2 died (4.2%). Serum ferritin levels of 2000 and more was found in 11 patients (0.04%), of which 7 required ICU care (63.6%) and 5 died (45.4%). Raised ferritin levels showed increased mortality and morbidity irrespective of other factors.
[Full Text Article]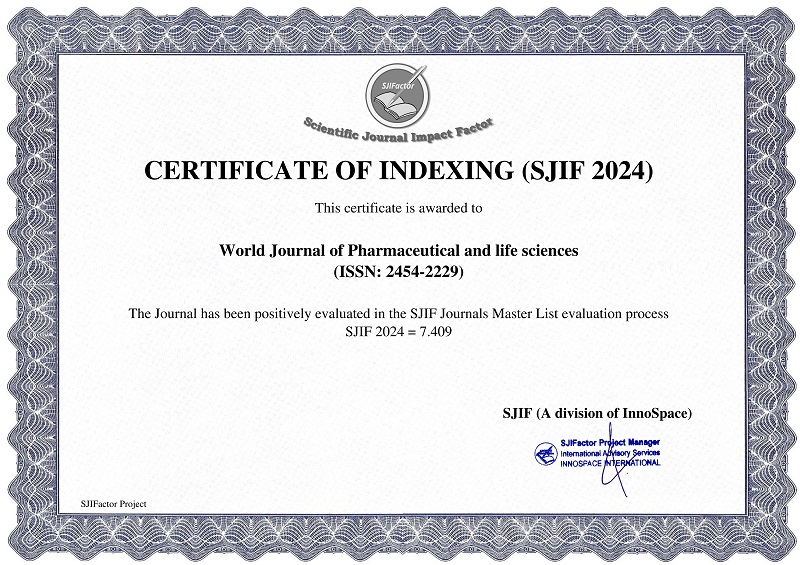 BEST PAPER AWARDS
World Journal of Pharmaceutical and life sciences Will give best paper award in every issue in the from of money along with certificate to promote research .
Best Article of current issue
Download Article : Click here