Abstract
IMPACT OF HIGH-ELEVATED CO2 CONCENTRATION ON CAROTENOIDS AND PROLINE CONTENT OF ARACHIS HYPOGAEA (L).
Dr. M. Sreenivasulu* and T. Damodharam
ABSTRACT
Increasing atmospheric CO2 concentration leads environmental changes on the earth; it causes different alterations in plant growth and production. Groundnut is a very important edible oilseed crop raised mostly under rain fed situations worldwide. The present investigation was conducted during 2014-2015 in randomized controlled chamber at botanical garden in Sri Venkateswara University. To evaluate the effects of normal CO2 level and elevated concentration levels on Arachis hypogaea (L) with different concentrations of CO2 levels (400ppm, 600ppm, 800ppm,) to investigate the total carotenoids and total proline content was measured in days of 5th, 10th and 15th intervals. The results showed that in Arachis hypogaea (L) the elevated CO2 enhance the carotenoids and proline content significantly with increasing concentration of CO2.
[Full Text Article]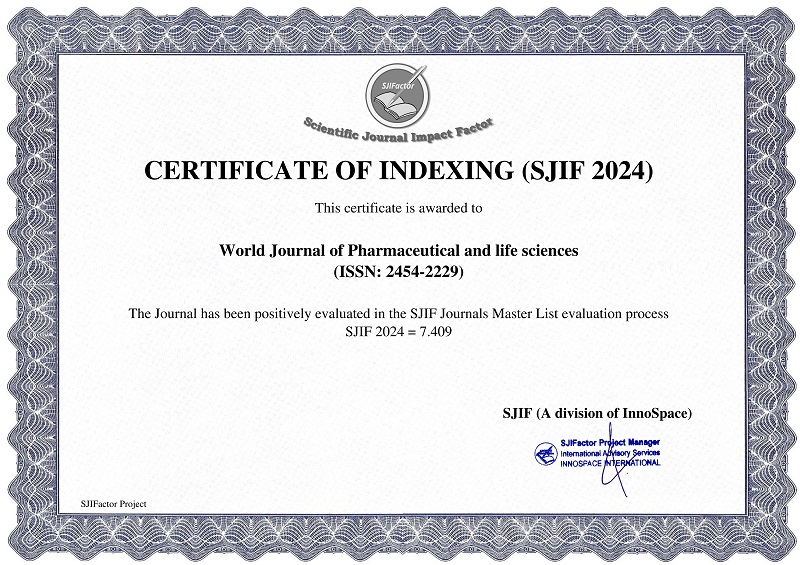 BEST PAPER AWARDS
World Journal of Pharmaceutical and life sciences Will give best paper award in every issue in the from of money along with certificate to promote research .
Best Article of current issue
Download Article : Click here