Abstract
SYNTHESIS, CHARECTERIZATION AND BIOLOGICAL EVALUATION OF SOME NOVEL BENZOTHIAZOLE PYRAMIDINE ANALOGS AS POTENTIAL ANTITUBERCULAR AGENTS
Siddhanadham Arun Sathyadev*, Anitha Pilli, Mounipriya. S and Seetaram Padal. K.
ABSTRACT
Benzthiazole, Pyramidines and their analogues have a good sort of biological activities like Neuro protective activity, anti helminthic, antifungal, antibacterial, antidiabetic, antitubercular, anti-inflammatory, anti-convulsant, herbicidal activity, Anti-malarial activity, Hypolipedimic activity etc., within the present research work, an attempt has been made to synthesize some new series of novel benzthiazole linked chalcones from 3-aminoacetophenone and potassium thiocyanate which were dissolved in glacial acetic acid at temperature 25±2.5°C and liquid bromine in glacial acetic acid was then added drop-wise, and eventually the reaction mass is quenched and basified with ammonia to get the specified Benzthiazole linked chalcone later the answer of benzothiazole linked chalcone in ethanol was condensed with guanidine hydrochloride within the presence of catalytic amount of pyridine in absolute ethanol at reflux temperature on a water bath to get the desired compound. The purity of the compounds was identified by TLC. The solvent was evaporated in vacuum and crushed ice was added to the residue while mixing thoroughly, a bright yellow solid separated out. This solid was filtered under vacuum, dried and purified by chromatography to offer light yellow solid. The structures were determined by IR, 1H NMR and Mass spectral data. The synthesized benthiazole linked pyramidine analogues were screened for anti-tubercular activity by use of MABA (Microplate Alamar Blue assay) analytical method on H37Rv strain of tubercle bacillus. The compounds containing electron withdrawing groups like chlorine, fluorine, nitrogen showed better activity than that of the opposite compounds within the series. The mechanism of action of the compounds can be assassinated for the activity on the cell membrane disruption by inhibiting the peptidoglycon synthesis as potential antitubercular agent.
[Full Text Article]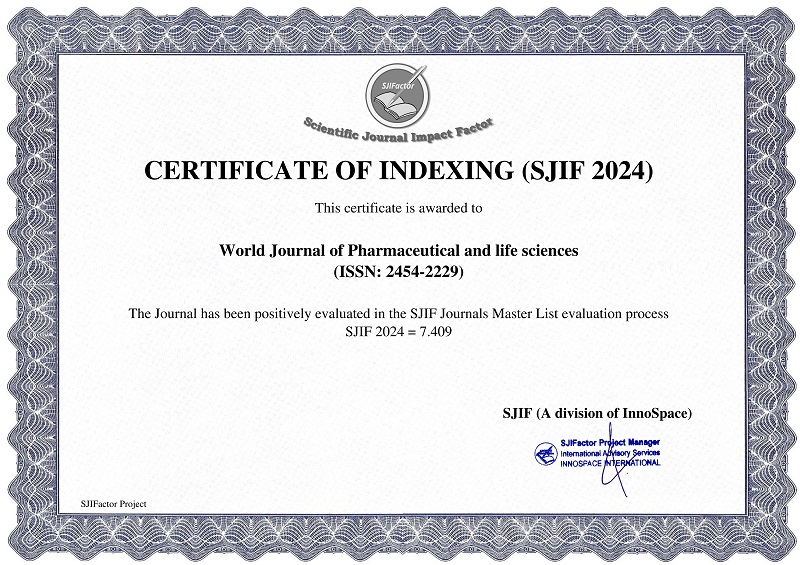 BEST PAPER AWARDS
World Journal of Pharmaceutical and life sciences Will give best paper award in every issue in the from of money along with certificate to promote research .
Best Article of current issue
Download Article : Click here