Abstract
ANIMAL MODEL ASSESSMENT OF THE NUTRACEUTICAL VALUE OF AQEUOUS EXTRACT OF AZADIRACHTA INDICA STEM BARK
Ihimire I. G.*, Alaiya H. T. and Onobun D. O.
ABSTRACT
This study investigated the effect of administration of acute and sub-lethal dose of Azadirachta indica in animal model. Eighteen (18) mature Wistar albino rats were used to investigate lethal dose LD50 and establish safe dose (SD) in 24 hours. Another 18, divided into 6 Groups A – E were used to investigate the biochemical effect of administration of different doses of the extract. Group A served as control and received only water daily. Group B received 1 mL of extract 547.72 mg/kg body weight being the safe dose established. Group C – F respectively were given 492.95 mg, 602.49 mg, 657.26 mg or 711.89 mg/kg body weight in 1 mL for 14 days. Water and feed were provided ad libitum. On the 15th day, the animals were humanely sacrificed, blood collected by cardiac puncture and some organs/tissues were excised. Standard methods were used to assess in triplicate Some biochemical parameters. Mean values of these analytes were calculated and compared with Turkey-Kramer multiple comparison test. Results were presented as mean ± standard error of mean. Administration of the dose recorded comparable final weight as control, 184.87 ± 1.97 g and also liver, heart, spleen and kidney weight too. Group administered the safe dose i.e. Group B recorded evidence of liver protection effect with lower AST value compared to control. This study provided rational biochemical evidences for adequate usage of the extract.
[Full Text Article]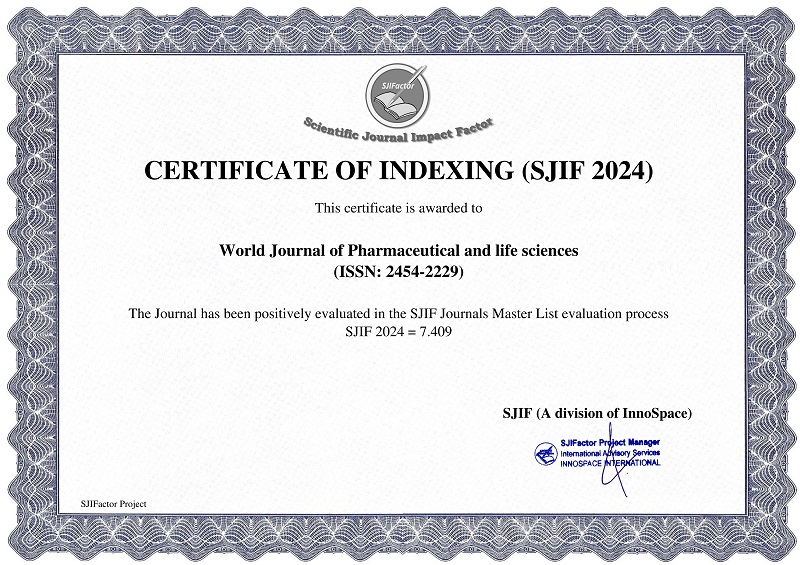 BEST PAPER AWARDS
World Journal of Pharmaceutical and life sciences Will give best paper award in every issue in the from of money along with certificate to promote research .
Best Article of current issue
Download Article : Click here