Abstract
CONSTITUENTS AND ANTIMICROBIAL ACTIVITY OF SUDANESE GREWIA VILLOSA (TILIACEAE) OIL
Prof. Abdel Karim M.*, Mazin I., M. Alla and Magid T.
ABSTRACT
Grewia villosa is a shrub which is distributed in Africa and India usually in arid areas. This shrub is often growing on river banks liable to flooding or on shade of larger trees. In Sudan the fruits are marketed as a fermented drink. In its native range leaves are considered as a good livestock fodder. Grewia villosa root is antidiarrhoeal. It is also used against cough. A mixture of root and bark is used traditionally against syphilis, In this study, Grewia villosa oil has been analyzed by GC-MS. The analysis showed 21 components. Major constituents are: i)9, 12-octadecadienoic acid (Z, Z)-, methyl ester( 48.65%) ii)- hexadecanoic acid, methyl ester(18.33%). iii)9-octadecenoic acid (Z)-, methyl ester (16.15%). iv)- methyl stearate (9.45%) The antmicrobial activity of the oil has been assessed. The studied oil showed significant activity against Klebsiella pneumoniae. However, it failed to exhibit activity against other test organisms.
[Full Text Article]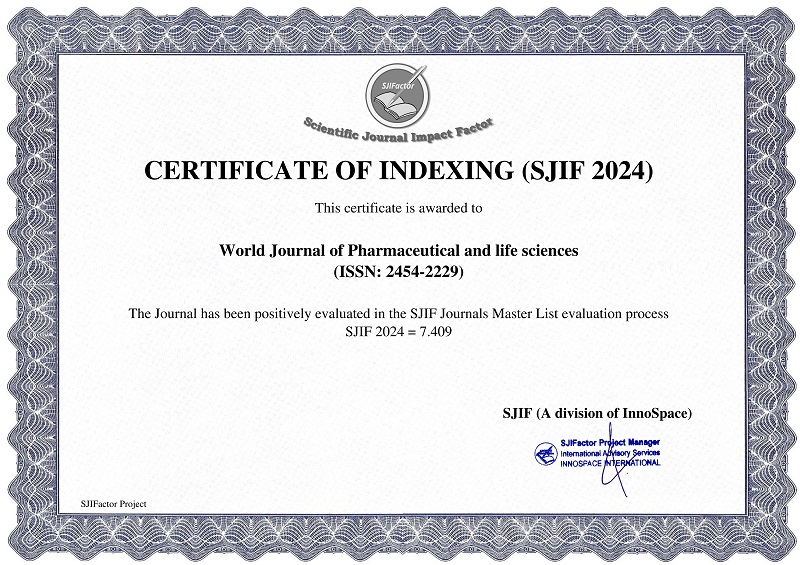 BEST PAPER AWARDS
World Journal of Pharmaceutical and life sciences Will give best paper award in every issue in the from of money along with certificate to promote research .
Best Article of current issue
Download Article : Click here