Abstract
"EFFECTIVENESS OF VIDEO ASSISTED TEACHING ON KNOWLEDGE REGARDING BIRTH PREPAREDNESS AND COMPLICATION READINESS AMONG PRIMIGRAVIDAE ATTENDING ANTENATAL OUTPATIENT DEPARTMENT IN SELECTED MATERNITY HOSPITALS AT BENGALURU".
Kavitha L. A.* and Dr. Pushpaveni N. P.
ABSTRACT
Every pregnancy is a joyful moment for all mothers who dream of a safe pregnancy and a healthy baby However, every pregnant woman faces the risk of sudden, unpredictable complications that could end in death or injury to herself or to her infant. Birth preparedness and complication readiness (BPACR) is a strategy that encourages pregnant women, their families, and communities to effectively plan for births and deal with emergencies. A study was conducted to know the effectiveness of video assisted teaching on knowledge regarding BPCR. Method: Pre-experimental design, with Non probability convenient sampling method was used. Information was collected from 50 primigravidae BPCR using the structured interview schedule. Pre-test was conducted, VAT was implemented and post-test was conducted after 7 days of pre-test to find the effectiveness of VAT on knowledge regarding BPCR Result: Overall mean % of pre-test knowledge regarding BPCR is 38.5% .Classification of respondents on pre-test in which majority 80%(< 50% score) of respondents had inadequate knowledge, 10% (50-75% score) of respondents had moderately adequate, 0% (> 75% score) of respondents had adequate knowledge. Overall mean % of post-test knowledge regarding birth preparedness and complication readiness is 89.35%. Classification of respondent by post-test shows majority of 100% (>75%) of respondents were having adequate knowledge, 0% (< 50% and 50-75%) of respondents were having inadequate and moderately adequate knowledge.Hence the research hypothesis H1 which was stated that there will be a significant improvement in the level of knowledge among primigravidae regarding BPCR after VAT than before VAT at 0.05 level of significance was accepted. Interpretation And Conclusion: The aim of the study was to assess the effectiveness of video assisted teaching on knowledge regarding BPCR among primigravidae.Thus the study result revealed significant association between post-test and knowledge of primigravidae regarding BPCR
[Full Text Article]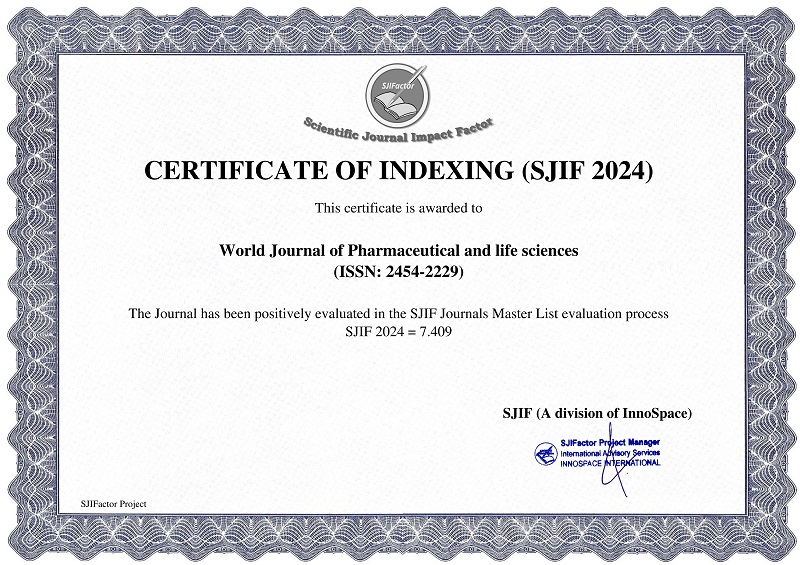 BEST PAPER AWARDS
World Journal of Pharmaceutical and life sciences Will give best paper award in every issue in the from of money along with certificate to promote research .
Best Article of current issue
Download Article : Click here