Abstract
ISOLATION OF LACTOBACILLUS FROM NON-DAIRY PRODUCTS AND ASSESSMENT OF THEIR PROBIOTIC PROPERTIES
Harsha Karunakaran*, Ramachandran A. M., Saranya S. and Manju M.
ABSTRACT
The main objective of the study was to isolate Lactobacillus sp. from fruit wastes such as banana peel and grape wastes, it?s characterisation by physiological, morphological and biochemical characteristics and assessment of probiotic potential of isolated Lactobacillus sp. to confirm its usefulness as a probiotic. The use of fruit wastes as a source of probiotics is a light to waste management as well as cheap and an alternative of traditional source. For a good probiotic it should tolerate the low pH of the gut and should tolerate bile salt and phenol each up to 0.3% concentration. All the isolates showed above 85% tolerance of 0.3% bile, while phenol tolerance is about 69-82% is seen among the isolates. It also shows that all the isolates exhibits good tolerance to low pH (above 85%). As the antibiotic resistant strains can be co-administered with antibiotics for treatment of diseases the isolates are being tested for antibiotic susceptibility. The main property of probiotic, that is antagonistic activity against pathogens such as E. coli and Salmonella was being tested. The experimental results showed that the banana and grape wastes contains Lactobacilli which can tolerate inhibitory substances and were able to survive both in acidic and alkaline conditions. They exhibited antibacterial activity against some indicator pathogens. Based on these characteristics the isolates may have potential for probiotic application.
[Full Text Article]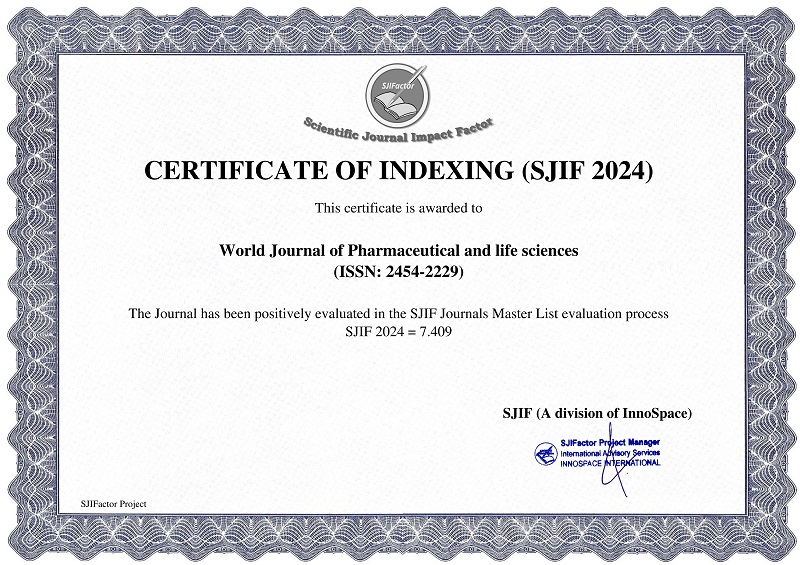 BEST PAPER AWARDS
World Journal of Pharmaceutical and life sciences Will give best paper award in every issue in the from of money along with certificate to promote research .
Best Article of current issue
Download Article : Click here