Abstract
CAPSULES: TYPES, MANUFACTURING, FORMULATION, QUALITY CONTROL TESTS AND, PACKAGING AND STORAGE - A COMPREHENSIVE REVIEW
*Aliyu R. S., Lawal A. M., Chasta P. and 1Sharma G. K.
ABSTRACT
Capsules are solid preparations in which drug substance(s) and/or excipients are enclosed in either a soft or hard soluble shell. The sell is normally made from gelatin or other suitable polymeric material and results in a simple, tasteless, odourless, elegant, easy-to-swallow dosage form without the need for a secondary coating step. Depending on the composition of the capsule shell, capsules may be classified as either hard or soft capsule, with soft capsules possessing a flexible, plasticized gelatin film while the hard capsule is composed of two pieces in the form of cylinders closed at one end; the shorter piece, called the "cap? and the longer piece, called the "body?. Capsules may be filled with a range of formulation types including dry powders, semisolids, nonaqueous liquids, and other dosage forms such as beads, mini-tablets, and even mini capsules most of which are intended for oral administration. There are also specialty applications such as capsules that can be loaded into dry-powdered inhalers, add reagents as part of a diagnostic kit, and occasionally soft-shell capsules intended for rectal or vaginal insertion as suppositories. Also, In the recent advancements, non-gelatin capsules have been discovered, which do not contain gelatin as it?s shell-forming agent. Under this category of capsules are the HPMC, PVA and starch capsules. This review captures various categories of capsule types, formulation and filling of capsules, locking and sealing of capsules, and, quality control tests. The various packaging and storage method were also highlighted.
[Full Text Article]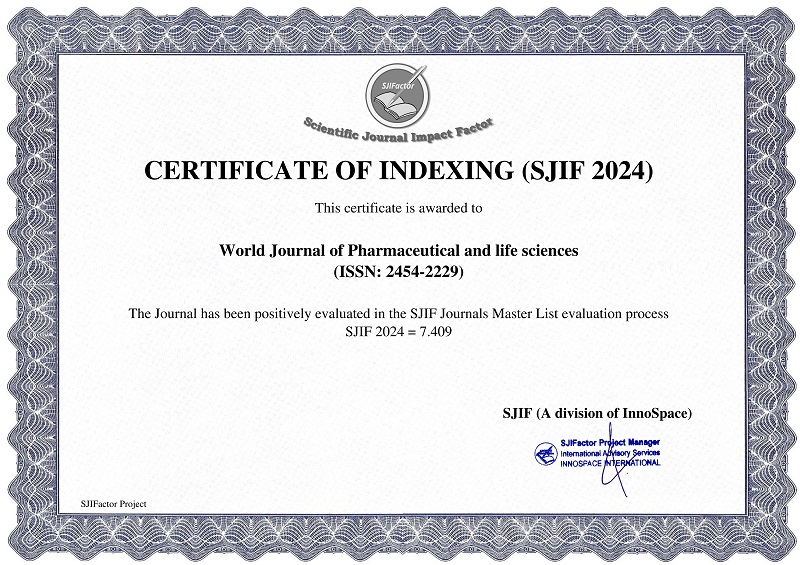 BEST PAPER AWARDS
World Journal of Pharmaceutical and life sciences Will give best paper award in every issue in the from of money along with certificate to promote research .
Best Article of current issue
Download Article : Click here