Abstract
THERAPEUTIC EFFECT OF AGERATUM CONYZOÏDES LINNEE OINTMENT ON BURN AND DIABETIC WOUNDS INDUCED IN WISTAR RATS.
Okémy Andissa N.*, Kouloungous Bafila C.B.D., Mouankie J.B., Moussoungou A.S.U., Miguel L. M., Abgonon A. and Abena A.A.
ABSTRACT
Aim: The purpose of this work was to qualitatively analyze the ointment of the aqueous extract of the leaves of the Ageratum conyzoides L. and to evaluate the effects of this ointment on the burn wounds and the wounds of induced diabetics in the wistar rat. Methods Conventional experimental methods were used. Results : The obtained cream of Ageratum conyzoides is brown in colour, slightly bitter, with a ph=5.6 and not irritating to the skin. This ointment used at doses of 4 and 8 g/kg significantly reduces deep wounds and burns of 2nd Degreaser after 8 days with a complete healing on the 18th day compared to controls with gaping wounds. Ageratum conyzoides allows the wound reepithelialisation with an average duration of about 8 days. Conclusion : This confirms its use in primary health care among African populations in particular.
[Full Text Article]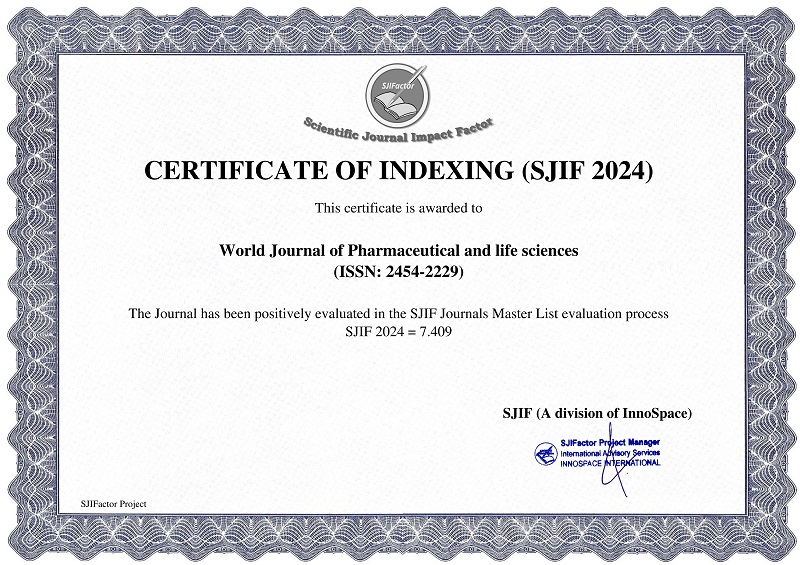 BEST PAPER AWARDS
World Journal of Pharmaceutical and life sciences Will give best paper award in every issue in the from of money along with certificate to promote research .
Best Article of current issue
Download Article : Click here