Abstract
A STUDY TO ASSESS THE EFFECTIVENESS OF INFORMATION EDUCATION COMMUNICATION ON KNOWLEDGE REGARDING HYPOGLYCEMIA AMONG PATIENTS WITH DIABETES MELLITUS IN A SELECTED COMMUNITY AREA
Mahalakshmi L.* and Dr. Hema V. H.
ABSTRACT
A quasi experimental study to assess the effectiveness of information education communication on knowledge regarding hypoglycemia among patients with diabetes mellitus The 60 study samples selected by non probability sampling technique. The data collected with the help of demographic data, clinical variables and self structured questionnaire regarding hypoglycemia. The study results shows that after the IEC the level of knowledge improved as 80% had moderately adequate level of knowledge, 16.67% had inadequate level of knowledge and 3.33% had adequate knowledge in experimental group. The effectiveness of IEC is proved effective at p<0.05 level. The study conclude that the Nurses are health care providers actively involved in prevention and early detection of diabetes and its complications by conducting various education methods.
[Full Text Article]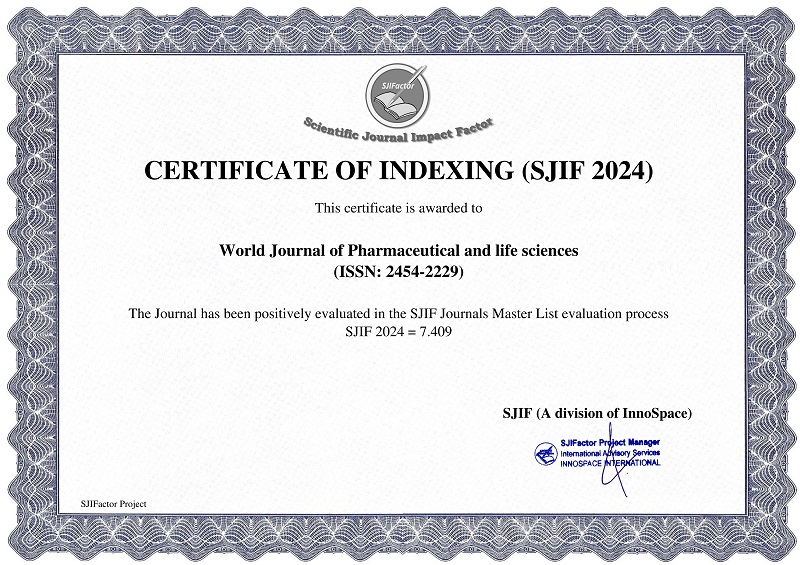 BEST PAPER AWARDS
World Journal of Pharmaceutical and life sciences Will give best paper award in every issue in the from of money along with certificate to promote research .
Best Article of current issue
Download Article : Click here