Abstract
DEVELOPMENT AND CHARACTERIZATION OF MUCOADHESIVE BUCCAL FILM OF IVABRADINE HYDROCHLORIDE FOR ANGINA PECTORIS
Raut D. B.*, Chaudhari R. G.*, Burade K. B., Gavhane Y. N.
ABSTRACT
The objective of this study was to develop and evaluate mucoadhesive buccal film of Ivabradine hydrochloride using mucoadhesive polymer HPMC E5 LV for angina pectoris. During study polyvinylpyrrolidone considered as a thickening agent, film former. PEG 4000 and PEG 6000 use as a plasticizer as well as solubilizing agent. Tween 80 use as a permeation inhancer. A total number of six formulations were prepared by a solvent casting method. The prepared mucoadhesive film were evaluated for drug content, in-vitro dissolution, Ex Vivo Permeation folding endurance, mucoadhesive strength, swelling index, and drug-polymer interaction study. From the present study, it found that formulation F3 and F5 show in vitro drug release 94.08% ± 0.15, 98.51% ± .612 respectively within 3hr. Ex vivo drug permeation found to be 65.87% and 71.48% within 4 Hr. by using goat oral mucosa. There was no any physical and chemical interaction between drug and polymer based on physical and FTIR data interpretation.
[Full Text Article]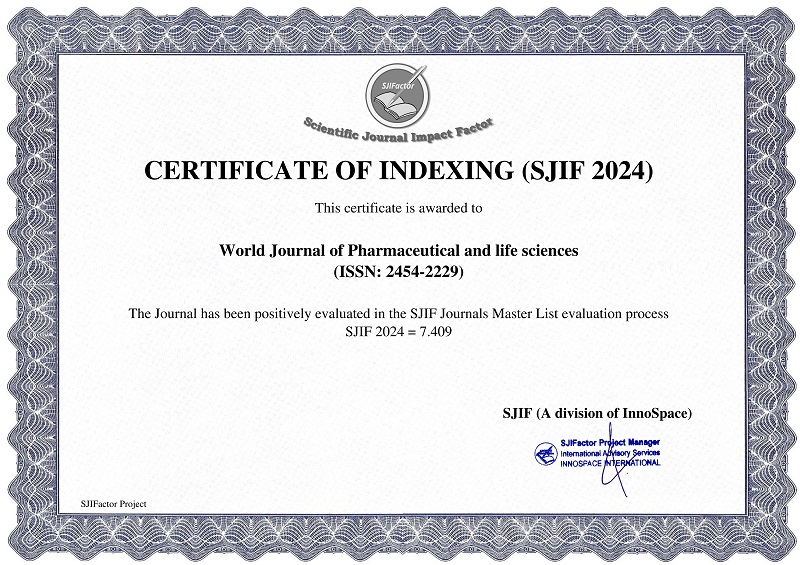 BEST PAPER AWARDS
World Journal of Pharmaceutical and life sciences Will give best paper award in every issue in the from of money along with certificate to promote research .
Best Article of current issue
Download Article : Click here