Abstract
CLINICAL STUDIES OF PERIODONTAL DISEASES ON HAEMATO-BIOCHEMICAL, MICROBIOLOGICAL AND CHEMICAL ANALYSIS OF DENTAL TARTAR
Khatariya M. D., Talekar S. H.*, Ahlawat AR, Dodia V.D. and Kalaria V.A.
ABSTRACT
The present work was conducted on 20 dogs suffering from periodontal diseases presented to Department of Veterinary Surgery and Radiology, Junagadh Agricultural University, Junagadh during study period. The present clinical work was carried out to study, haematological and biochemical parameters in relation to periodontal disease, diagnosis of periodontal diseases, and to study oral micro flora, suitable antibiotics therapy and mineral composition of dental tarter. This present study was carried out on 20 dogs in which major complaints from dog owners revealed halitosis, Sticky salivation, anorexia, pawing at mouth and facial swelling in the present study. History further revealed that pet owners ignore any home care and professional dental cleaning for keeping teeth of dogs healthy. A detailed survey regarding food habits of dogs revealed maintained on pure vegetarian diet and both vegetarian and non-vegetarian diet. Majority of dogs were provided homemade food mainly consist of soft food, either pure vegetarian or mixed, also offered commercial available food (vegetarian) in the market in addition to homemade food. Among 20 dogs, oral examination revealed that varying degree of dental plaque, dental calculus, gingival recession, gingival hyperplasia, tooth fracture, persistent deciduous tooth and pulpitis. According to haemato-biochemical analysis on the day of treatment all parameters were recorded within normal range. Whereas there was no significant difference between values of various haematological and biochemical parameters on 0 day of treatment and 10th day post treatment. For purpose of dental scaling premedication with atropine sulphate, diazepam and ketamine hydrochloride were used for anesthesia. During treatment sterile swabs were used for sample collection from mineralized dental plaque of 20 dogs. The result of bacteriological culture revealed the presence of different types of bacterial colonies; viz. Streptococcus spp. (40 %), Staphylococcus spp. (30 %), Escherichia spp. (20 %) were found to be higher growth on culture media. Levofloxacin had the highest in-vitro susceptibility (85 %), followed by Amoxicillin (65 %), Gentamicin (60 %), Ceftriaxone (55 %), Cefotaxime (55 %), Oxytetracycline (50 %) and Chloramphenicol (45 %) Based on this susceptibility test, Levofloxacin was found to be the best antimicrobial drug of choice for periodontal diseases. Dental tarter samples (n=20) were used for chemical analysis. The analyzed dental tarter were composed of Calcium (Ca) 80.07 %, Phosphorus (P) 14.51 %, Magnesium (Mg) 2.83 %, Potassium (K) 1.22 %, Sulphur (S) 0.89 %, Iron (Fe) 0.61 %, Nickel (Ni) 0.44 %, and Zinc (Zn) 0.20 %.
[Full Text Article]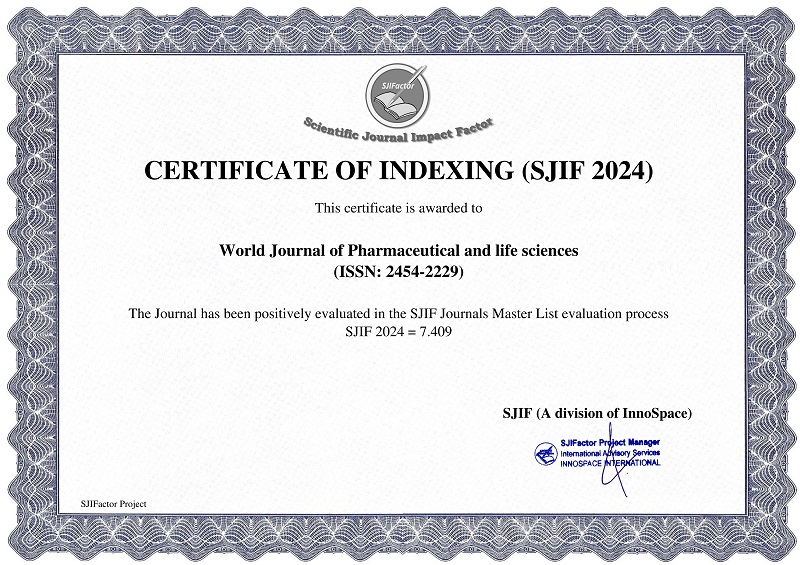 BEST PAPER AWARDS
World Journal of Pharmaceutical and life sciences Will give best paper award in every issue in the from of money along with certificate to promote research .
Best Article of current issue
Download Article : Click here