Abstract
EVALUATION OF THE EFFECT OF AQUEOUS SEED EXTRACT OF Ricinodendron heudelotii ON THE BLOOD ELECTROLYTE AND HEMATOLOGICAL STATUS OF MALE WISTAR ALBINO RATS
*Odinga T., Gabriel-Brisibe C. and Moore-Igwe, B. W.
ABSTRACT
Plants have widely being used for medicinal and therapeutic purposes, also for maintenance of a healthy biochemical system, the food intake a necessary factor. This study evaluates the effect of the intake of aqueous seed extract of Ricinodendron heudelotii on the blood electrolyte and hematological status of male wistar albino rats. Twenty five experimental rats were randomly grouped into five of five rats each; the control group fed with normal rat feed and water without the extract while groups 2, 3, 4 and 5 were in addition to normal feed and water ad libitum administered 400, 600, 800 and 1000mg/kg body weight respectively, 24 hourly for a period of 21 days. Blood samples were collected for the blood electrolyte assay; sodium (Na+), potassium (K+), chloride (Cl-), calcium (Ca++) and bicarbonate (HC03-) and hematological parameter; white blood cell (WBC), Hemoglobin (Hb), Red blood cell (RBC), Packed cell volume (PCV), Mean corpuscular hemoglobin concentration (MCHC), Mean corpuscular hemoglobin (MCH), Mean corpuscular volume (MCV), Neutrophils and lymphocytes. The results obtained revealed that administration of aqueous seed extract of Ricinodendron heudelotii did not have significant effect p?0.05 on the sodium, potassium, chloride and bicarbonate concentrations, however, a significant difference p?0.05 was observed for the calcium level. The aqueous seed extract caused a concentration dependent and statistical significant increase at p?0.05 in RBC and WBC concentrations. A concentration dependent increase in Hb, PCV, MCH was observed, although not statistically significant. The increase in the WBC, RBC, Hb, MCHC, PCV observed suggests that the aqueous seed extract of Ricinodendron heudelotii has the potency to stimulate the production of leucocytes and red blood cells and thereby serve as an immune booster during infections and prevent anemia hence maintain the hematological balance of the body.
[Full Text Article]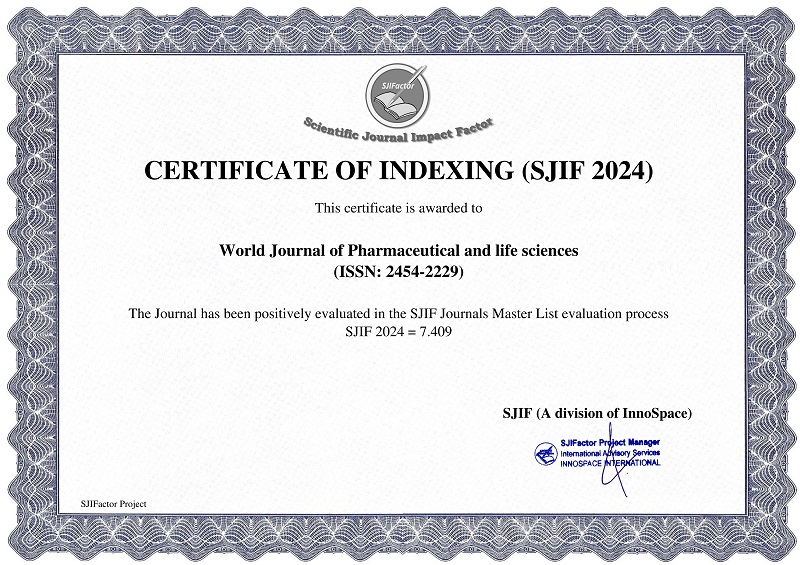 BEST PAPER AWARDS
World Journal of Pharmaceutical and life sciences Will give best paper award in every issue in the from of money along with certificate to promote research .
Best Article of current issue
Download Article : Click here