Abstract
AN EXPERIMENTAL STUDY: KNOWLEDGE ON SEXUAL ABUSE AND ITS PREVENTIVE MEASURES AMONG ADOLESCENT GIRLS
Vinutha G., *Arathi T. V. and Hemanth C. K.
ABSTRACT
Sexual abuse or child molestation is one of the crimes which needs public attention. The number of sexual abuse cases among children has been increasingly reporting every year. Child sexual abuse will have adverse effect on both physical and mental health which hinders growth and development of child. It is not acceptable by the society thus; every member of the society should take initiation and be responsible in preventing sexual abuse. the purpose of the study is to assess the effectiveness of planned or structured teaching programme on knowledge regarding sexual abuse among adolescent girls aged between 13-15. An experimental study was conducted among 100 girls (experimental-50 & control-50) studying in Sri Bhakthanatha Swamy High School, BG Nagara. Samples were selected through systemic random sampling. STP was given only for experimental group. The knowledge score of the experimental group during the pre-test was 41.6%, whereas it increased to 86.13% during the post-test as an effectiveness of STP (t== 26.72, p<0.05 significant). Ongoing teaching and health education can further improve the knowledge of adolescent girls.
[Full Text Article]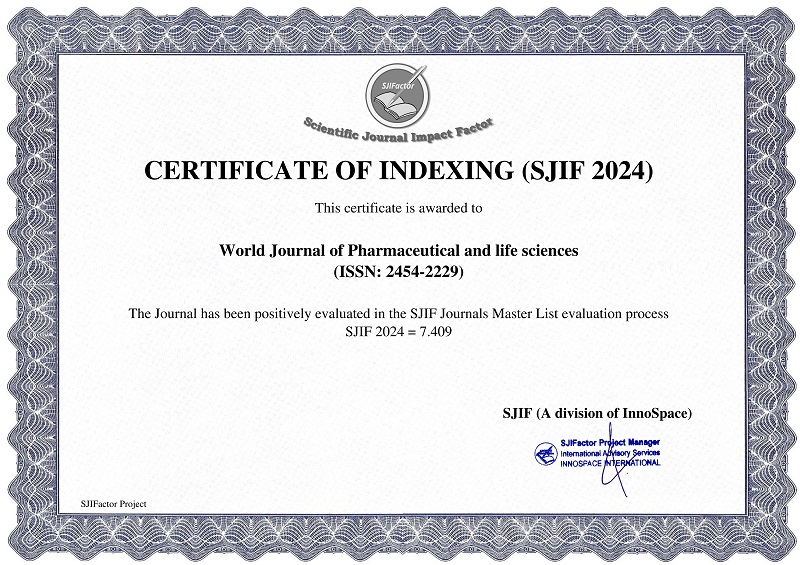 BEST PAPER AWARDS
World Journal of Pharmaceutical and life sciences Will give best paper award in every issue in the from of money along with certificate to promote research .
Best Article of current issue
Download Article : Click here