Abstract
PLANT MEDIATED SYNTHESIS OF SILVER NANOPARTICLES FROM LEONOTIS NEPETIFOLIA L. AND ITS ANTIBACTERIAL PROPERTY
Dr. Wadavkar D. S.*, Gadhave S. R., Palave S. A. and Chavan S. J.
ABSTRACT
Nanotechnology has now started to develop a new route for changing of our day to day life. The new eco-friendly ?green? methods of synthesis are being discovered for increasing demands commercial nanoparticles. Plant mediated synthesis of nanoparticles offers single step, easy extracellular synthesis of nanoparticles. The synthesis of nanoparticles was confirmed by change in colour from pale green to reddish brown. Further, a peak between 400 nm to 440 nm was obtained on UV-Vis spectrometer which confirmed the biosynthesis of silver nanoparticles. XRD have been used to investigate the morphology of prepared AgNPs. The peaks in XRD pattern are associated with that of face-centered-cubic (FCC) form of metallic silver. FTIR was performed to identify the functional groups of carboxylic acid, carbonyl, hydrocarbon, alkane, hydroxyl, unhydride, ester, ketone, alkenes nitro, alcohol, phenol, ether and monosubstituted benzene molecule which form a layer covering AgNPs and stabilize the AgNPs in medium. The antibacterial activity against different bacteria likes Escherichia coli, Bacillus subtilis, Salmonella abony, Staphylococcus aureus and Pseudomonas aeruginosa and control were reported.
[Full Text Article]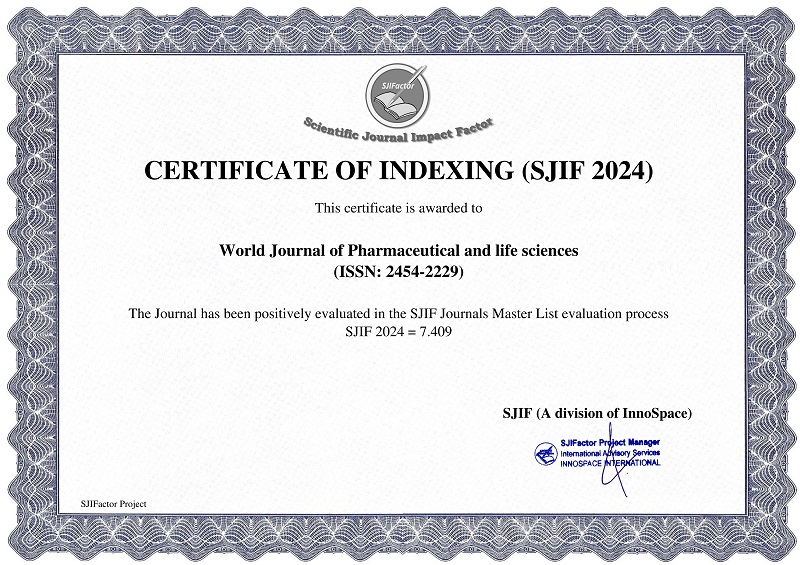 BEST PAPER AWARDS
World Journal of Pharmaceutical and life sciences Will give best paper award in every issue in the from of money along with certificate to promote research .
Best Article of current issue
Download Article : Click here