Abstract
PHYTOCHEMICAL ANALYSIS, ANTI-MICROBIAL AND ANTI-OXIDANT ACTIVITY OF OCIMUM BASILICUM
Asha Monica A.* and Senthilkumar S. R.
ABSTRACT
Ocimum basilicum Linn (Lamiaceae) is familiar as a plant having healing properties and has received consent to be used for variety of ailments in many countries The aqueous soxhlet extract which is ordinarily utilized in folkloric drug, while methanol and hexane soxhlet concentrates were exposed to phytochemical screening, the phytochemical analysis of the aqueous extract revealed that steroids, glycosides, carbohydrates, proteins, alkaloids, oils, terpenoids are present. The phytochemical investigation of other two fractions contains glycosides, carbohydrates, proteins, alkaloids, oils and terpenoids. In addition, hexane extract contains reducing sugar and tannin. O. basilicum were found to possess antioxidant and In vitro antibiotic activity against E. Coli, Staphylococcus aureus, Klebsiella pneumonia, Bacillus sps, Aspergillus Niger and Candida albicans at high doses, in conclusion, this study has shown that O. basilicum contain primary and secondary metabolites that can be pharmacologically useful as well as posses some antibacterial, antifungal and antioxidant properties.
[Full Text Article]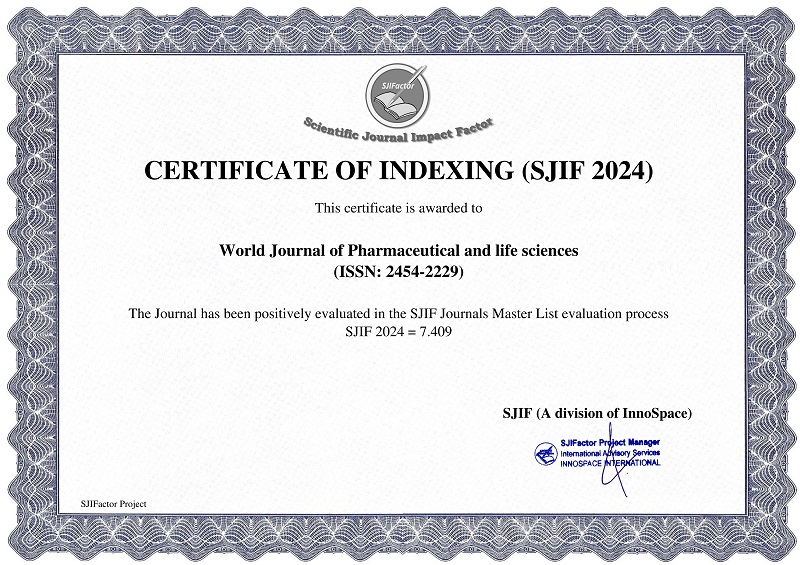 BEST PAPER AWARDS
World Journal of Pharmaceutical and life sciences Will give best paper award in every issue in the from of money along with certificate to promote research .
Best Article of current issue
Download Article : Click here